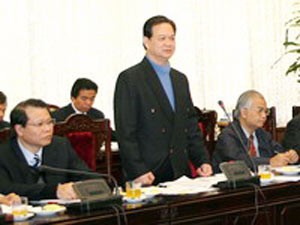 Prime Minister Nguyen Tan Dung addresses the meeting.
The Viet Nam Fatherland Front should mobilize more patriotic personalities and intellectuals at home and abroad in 2007 to construct the nation, said PM Nguyen Tan Dung.
PM Dung made the remark during a Sunday working session in the capital city of Ha Noi with the Presidium of the Viet Nam Fatherland Front (VFF) Central Committee on cooperation between the VFF and the Government in 2007.
The PM requested the VFF to closely cooperate with the Government in implementing key tasks in 2007, including ensuring of rapid and stable socio-economic development; the promotion of anti-corruption and take part in hunger eradication and poverty reduction programs. The VFF should also work with the Government in making, disseminating and enforcing laws in a bid to raise the VFF's involvement in the law making process as a whole.
Mr. Dung also praised the VFF's role in gathering people from all walks of life to build the great national united bloc. He highlighted the VFF's increased role in encouraging the people to work for national socio-economic development, combat corruption, practice thrift, and improving the quality of life for the poor.
Over the past six years, the VFF's fund for the poor has raised more than VND1.700 trillion to build new cultural life in residential quarters. Together with the sponsor from the national budget, the fund has greatly contributed to renovate or newly construct nearly 500,000 houses for the poor.