The Dong Nai Province's Farmer Association August 16 said it will collect opinions of 5,000 farmers, who were affected by Thi Vai River pollution, about continuing sue Vedan and not accepting its compensation.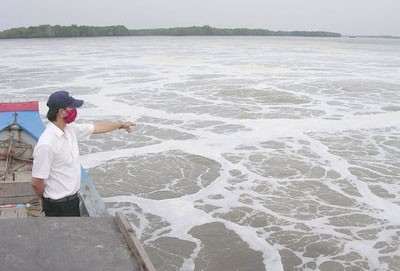 Thi Vai River has been seriously polluted as a result.
Vedan Vietnam on August 13 agreed to pay farmers in the province VND120 billion (US$ 40 million), however, authorities and farmers is still arguing about the rate of compensation.
The provincial People's Committee asked the association to work with related departments and the province's lawyer association to collect farmers' opinion from August 17.
The opinion polls have to be completed in the end of this month, said a representative from the provincial People's Committee.
The province's Long Tho Ward, home to 350 farmers affected by Thi Vai River pollution, submitted lawsuits to sue Vedan demanding compensation of VND350 billion (US$ 175 million) . They said VND120 billion would only compensate a tenth of 5,000 local farmers' losses.
To date, Long Thanh District' and Nhon Trach District's People Courts have received over 3,200 lawsuit files from farmers against Vedan. Over 500 more files are being finalised by lawyers to proceed in court.