Even though agriculture insurance is in place by the Government since early July this year, insurance companies have done little to educate farmers on this, as they continue to remain confused and unaware.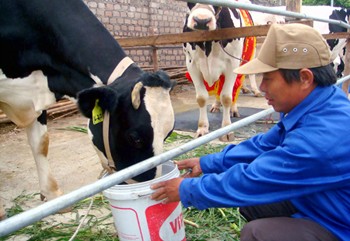 Milk cows in Moc Chau farm are insured against disease for last seven years (Photo: SGGP)
According to the Government's decision, agriculture insurance will be implemented in 21 provinces to cover rice, domestic livestock, shrimps and pangasius fish.
The northern provinces of Nam Dinh and Thai Binh have been selected for implementing a pilot rice insurance scheme. However, farmers are completely unaware of such a scheme here nor has any one informed them of the same.
Similarly, milk cow breeders in Gia Lam and Phu Dong districts of Hanoi say they have no idea when their cows will be insured against disease.
Justifying their stand, local authorities said they have not yet received any instructions to implement the scheme.
Head of the Department of Economic Cooperation and Rural Development, Tang Minh Loc, said that the Ministry of Agriculture and Rural Development and the Ministry of Finance were rushing to issue circulars to local authorities and insurance companies to implement the scheme.
 
According to Ho Xuan Hung, deputy minister of Agriculture and Rural Development, implementation of agriculture insurance is facing difficulties from insurance companies. He said that three insurance companies identified to carry out the scheme, namely, Bao Viet Insurance Corporation, Bao Minh Corporation and Vietnam Insurance Corporation (Vinare), said that they needed more time to prepare.
Nguyen Xuan Thuy, deputy general director of Bao Viet says his company has past experience in agriculture insurance but to now implement it to cover 21 provinces and cities would require time to train more man power to cover such a large area.
Meanwhile Nguyen Van Minh, head of the insurance division of Bao Minh said that companies have paid little heed to agriculture insurance due to conflicting insurance rates and profits.
"If the fee is too high, farmers can not afford and if it is too low, companies suffer loss," Minh said.
Role model
While the Government struggles to implement agriculture insurance, several of which like milk cow and plant insurance schemes have failed in the past. Nonetheless, Moc Chau milk cow farm in the northern province of Son La continues to lead the country in self-insurance schemes for the last seven years.
Each family at the farm possesses 7-35 milk cows and to prevent losses due to diseases or low milk prices, the farmers created their own cow insurance policy schemes. Accordingly, each family pays VND250, 000 per cow to receive ten-fold compensation should the cow die due to disease.
Since 2010, households have proposed to raise the fee to VND500, 000-600,000 per cow to get 15-fold compensation, accounting to about VND7.5-9 million.
Cow breeder Nguyen Thi Hoa said initially people were not very willing to support the project but then understood the value of the compensation when they lose a cow.
Tran Van Chien, director of the Moc Chau milk company reveals all households at the farm have bought insurance for 7,000 cows. The total premium collected has jumped to VND20 billion (US$952,000).
The farm also provides milk price insurance and each family contributes VND50, 000 per kilogram of fresh milk. When the prices slide by 25-30 percent, the insurance fund compensates farmers 60 percent of the price deficit.
Deputy minister Hung encouraged others to follow the Moc Chau farm model. He also affirmed that circulars on agriculture insurance would be issued shortly.