Mekong delta is naturally considered as rice basket and fish basket not only of Vietnam or the Asia but also of the world as the land is gifted with agreeable weather which is suitable for planting rice. For years, residents in the region have not only tried to exploit  but also reserved  special values.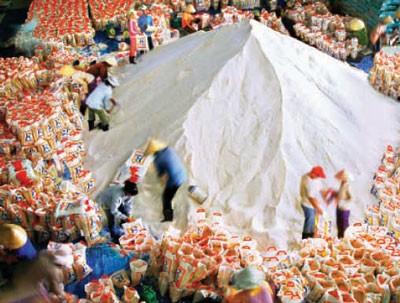 Mekong delta - Asia's rice basket
Ten years ago, Dr. Nguyen Huu Chiem and his colleagues  from Can Tho University were successful in building a natural pond in Ninh Kieu District of Can Tho city for attracting fish from the nature to live in.
The scientist team chose 2 kilometer creek Nga Ngay in Loi Du B village in An Binh Ward to build a natural pond. They planted water spinach, water hyacinth in the pond and created shade for the pond.

At first inhabitants in the village laughed that scientists did useless thing as the creek had not seen fish, shells and crabs for years.  However, six months later residents saw schools of various kind of  fish together with snakes, turtle and freshwater crabs flocking in the pond to live.

From the first success in Ninh Kieu District, Dr. Nguyen Huu Chiem has worked out a plan to submit to the Ministry of Agriculture and Rural Development asking for supporting for other natural ponds in the delta.
Another scientist,  Thi Thanh Vinh put his heart into restoring kinds of freshwater fish in the region.
Mr. Vinh and his colleagues from the Research Institute for Agriculture in Cai Be District of  Tien Giang Province were absorbed in the project to protect freshwater fish especially preserving a giant Siamese carp which is on the extreme danger of extinction.

To restore the kind of fish, Mr. Vinh and his partners had to catch fishes, cross breed before releasing them into natural living environment. For 10 years, the scientist team has caught 40 Siamese carps, they cross-bred  fishes in Bung Binh Thien, the largest fresh water lake in the Mekong Delta province of An Giang.
They crossbred over 10,000 baby Siamese carps to provide for enterprises and inhabitants.

The scientist team also carried out other projects to protect Vo Co (Another giant pangasius) and Tra Soc (Isok barb) which are highly in the extreme danger of extinction.

Dr. Nguyen Van Sanh, president of Mekong delta Development Research Institute , and his students brought to the second Rice Festival in Soc Trang Province a special map decorated with various rice and unkusked rice.
Nguyen Van Sanh is the scientist who took the initiative to joint paddy fields of all farmers into a giant one to use machines in cultivation for better productivity and profits for farmers. Mr. Sanh has paid so much attention to farmers' profits and he confirmed  that importers' competition had resulted in putting a pinch on farmers' profit.

The question " How to improve farmers' living condition' is always haunted the scientist's mind.