Farmers in the Mekong Delta have seeded 150,000 hectares of winter spring rice crop out of a total 1.55 million hectares, said Le Van Banh, head of the Mekong Delta Rice Research Institute on Monday.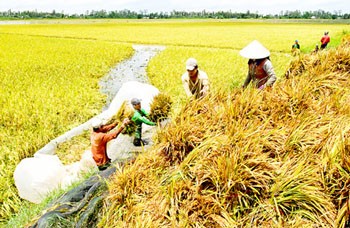 Rice being harvested in the Dong Thap Muoi area of the Mekong Delta (Photo: SGGP)
According to Mr. Banh, the seeding is behind schedule because of the slowly receding floodwaters. The initial plan was to cultivate 700,000 hectares this November.
Efforts are on to cover at least 1.4 million hectares by the end of December. The remaining area will be seeded in January to ensure a seasonal crop and prevent diseases.
Rice prices have surged in the Mekong Delta, with traders paying VND7,600-7,800 for a kilogram of long-grained rice and VND8,300-8,400 for a kilogram of fragrant rice.
In related news, Pham Van Bay, permanent deputy head of the Vietnam Food Association said on Monday that Vietnam has signed a contract to export 300,000 tons of rice to Indonesia at a price that will ensure farmers a 30 percent minimum profit. Delivery will be made from December this year until February next year.
So far 6.55 million tons of rice worth US$3.18 billion FOB (free on board) has been exported. Export price of rice has increased by US$60.86 to reach $486.48 per ton.