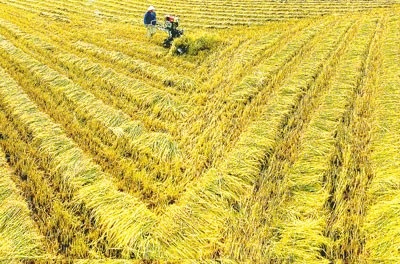 Despite a bumper harvest this year, farmers in Mekong delta under distress with high labor costs (Photo: SGGP)
Thunderstorms in the Mekong Delta Region this year have flattened vast areas of standing rice crops and farmers now must use manual labor to harvest as combine harvesters will no longer work.
The Region, however, has seen a bumper harvest this year, resulting in shortage of labor and high wages. A hectare costs VND4 million (US$190) if farmers use combines to harvest, while manual labor costs VND5 million a hectare.
All together, costs can go upto VND8 million a hectare which is too high while paddy prices are too low, ranging from VND3,800 a kilogram for fresh unhusked rice and VND4,200 per kilogram for fresh long unhusked grain.
Farmers are therefore distressed despite having a bumper harvest this year.

Le Minh Duc, director of the Department of Agriculture and Rural Development in the Mekong delta province of Long An said around 20,000 hectares of summer-autumn crops are being harvested. He urged enterprises to purchase 91,000 tons of rice as directed by the Vietnam Food Association (VFA).

According to VFA, since the beginning of the year, enterprises have exported nearly three million tons of rice, earning revenue upto $1.28 billion.