Minister of Natural Resources and Environment Tran Hong Ha yesterday admitted to shortcomings in handling the mass fish death in the north central region which he called a serious and large scale disaster occurring in Vietnam for the first time.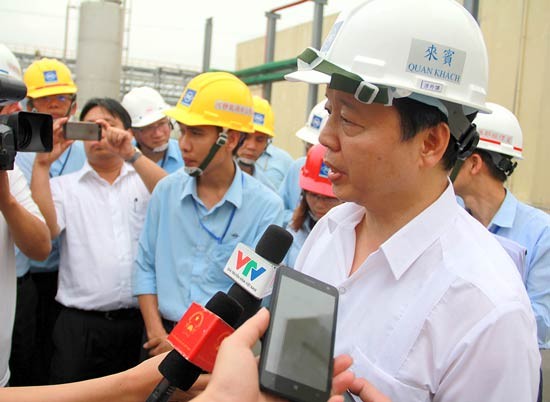 Minister Tran Hong Ha answers the press about the mass fish deaths at Vung Ang Economic Zone (Photo: SGGP)
During a field survey to Vung Ang waters where fish has died en masses recently, Mr. Ha said that authorized agencies have launched inspection but yet to spot any connection between wastewater and the environmental disaster. However they have found some problems indirectly related to the case.

Despite making efforts, the agencies have been inexperienced and confused in dealing with the fish death, handled the issue slowly and failed to meet the expectation of affected residents and the public.

The minister conducted the field survey to look into the wastewater release system at Taiwanese Hung Nghiep Formosa Ha Tinh Company (FHS) in Vung Ang Economic Zone.

Having yet to address the cause, Minister Tran Hong Ha said that the ministry and its department in Ha Tinh province would work with FHS to reconsider some issues related to the wastewater release system of the company. Vietnam's law does not permit underground wastewater release system.

The ministry, related ministries and scientists are positively working to determine causes and have suitable solutions in short and long terms.

In the upcoming time, the ministry will coordinate with scientists to regularly supervise and publicly announce wastewater discharge sources from production establishments.

On the same day, the Government Office sent an announcement on conclusions by Deputy Prime Minister Trinh Dinh Dung after a meeting with leaders of Ha Tinh province in the unusual fish death.

According to the conclusion, the mass fish deaths occurring from April 6-18 in the coastal areas in Ha Tinh, Quang Binh, Quang Tri and Thua Thien-Hue provinces have caused heavy economic and environmental damage and worried local residents.

Right after the case, related central and local agencies have taken samples to address the reason, collected dead fish to clean up the environment, guided local farmers to resume fishing and farming.
.

The condition has been stabilized, the fish death has abated and environmental hygiene has been ensured.

However that was an unusual case occurring over large areas in Vietnam for the first time while the country's environmental observation system and study ability of authorized agencies have been limited. So they have been confused and passive in initial handling process.

The Deputy PM asked the ministry of Natural Resources and Environment to work with related agencies to determine the cause accurately, objectively, carefully, fast and scientifically as per the Prime Minister's instruction.

They can invite foreign consultants and experts to investigate causes if necessary. In case finding out culprits of the fish death, they must be strictly handled in accordance with the law not excluding any individual and organization, Mr. Dung stressed.
He tasked the Ministry of Agriculture and Rural Development to synthesize and propose assistance policies to the Prime Minister to help farmers resume production, fishing and trading ensuring food safety and hygiene.

On April 28, dead fish continued being washed ashore in Quang Binh province.

Related articles:
Taiwanese Formosa apologizes for challenging statement
Agricultural industry to clarify if central fish intoxicated to death in 3-5 days
North central coast white with mass dead fish