Since early today morning, students from across the country flocked to university centers for their entrance examination which began with a 180-minute math's test, the first test of Option A (math's, chemistry, physics) and Option B (math's, physics, drawing).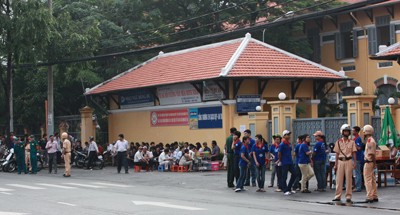 Police force maintaining order at an examination center (Photo: SGGP)
From 5.30a.m., thousands of students seeking admissions and their parents came to examination centers such as Le Quy Don High School in District 1, Sai Gon University in District 5 and University of Natural Sciences in District 5 and waited until 6a.m. when the centers would open to let students sit for their entrance exam.
Learning from yesterday's experience, police forces of districts Go Vap, Thu Duc, Binh Thanh stationed very early to direct traffic with some help from voluntary students from universities to prevent traffic congestion.
Due to anticipated anxiety, one contestant at the Le Quy Don High School center fell down and was slightly injured but recovered in time for the test. There were two latecomers, one at the University of Natural Sciences who thought that the center would open at 7.25a.m and one at the HCMC University of Pedagogy center who was relaxing in a coffee shop until after closing time of 7.15a.m.
According to observers at the scene, various examination centers violated the rules by having too many students or letting students sit too close to one another. At the Le Quy Don High School center, because the tables were too small, the distance between two examinees was only 0.4m even though each room had only 27 pupils (according to rules, the distance should be 1.2m).
A similar situation prevailed at the University of Transport and Communication center.  At the Foreign Trade University center, some rooms even had 80 contestants though their distance was as per rules. At the HCM University of Industry center 120-160 students were stuffed into one room.
For many students, this year's math's test was quite tough. Many teachers commented that only good students with sound knowledge would be able to pass the test.
Many students in colleges and universities in the central province of Da Nang completed the test earlier than required as they found the exam paper quite difficult.  Two candidates were asked to stop doing the test as they brought examination floats into the exam halls.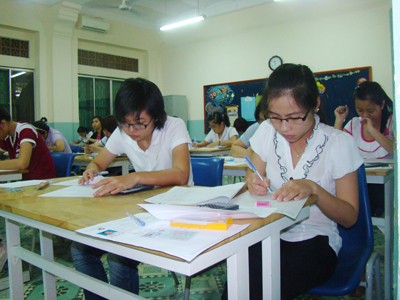 Many rooms at the Le Quy Don High School center violated rules of seating arrangements
Over 3,000 students sat for examination in the central hill city of Da Lat today.  According to Dr. Nguyen Duc Ho, deputy chairman of Da Lat University Council, there was no violation during the math's test.

Van Hanh Pagoda gave free lunches to poor candidates and relatives in front of the Da Lat University gate.
The oldest candidate to enroll in Hue University in the central city of Thua Thien – Hue was 61 year old Tran Van Minh from the central province of Quang Tri. This is the fourth attempt by him to sit for the university entrance examination which indicates his deep desire for learning.
A tragic accident occurred in district Mo Duc in the central province of Quang Ngai, killing one woman and injuring a student. The mother Le Thi Bich Lien, 43, drove her son Huynh Anh Tu to the first examination at Pham Van Dong University at 5.15 am. Her vehicle hit other motorbikes, both fell on the street and the mother was run over while her son suffered injuries. He was immediately rushed to the nearby hospital.