A Javan rhino, one of the world's rarest large mammals, has been found shot dead by poachers in Cat Tien National park, WWF Vietnam said on May 10.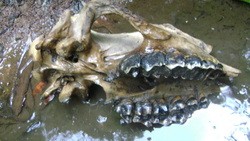 Javan rhino skull found on April 29 in Cat Tien National Park, southern province of Dong Nai. (Photo:WWF)
Local people first reported finding the carcass with its horn chopped off on April 29, said Huynh Tien Dung, National Policy Coordinator of WWF Vietnam.
A National Park forest patrol team from the southern province of Dong Nai was immediately deployed to the site, where they confirmed the dead animal was a Javan rhino.
WWF (World Wildlife Fund) will send samples taken from the dead rhino to Queen's University in Canada for analysis to see if the DNA of the dead rhino matches any of the dung samples taken during a recent population status survey, said Dung.
No one knows exactly how many Javan rhinos remain in the world, but estimates range from 40 to 60 animals, with possibly ten existing in Cat Tien National Park, 170 kilometers from Ho Chi Minh City in Dong Nai Province.
The WWF is now asking the Vietnam government to launch a criminal investigation into the rhino's death. The species is legally protected in Vietnam, where punishments for killing endangered species can include fines or prison sentences.
WWF researchers worked with Vietnam forest managers using two professional dogs from United States to track of the Vietnamese Javan rhinoceros in local forests in November last year.
Cat Tien National Park is home to many rare fauna and flora, a plentiful site for scientists, and domestic and foreign tourists.
The park is part of a wet tropical forest complex whose biodiversity has been recognized by WWF as one of 200 global ecological zones. In 2001 Cat Tien National Park was listed by UNESCO as the world's 411th biosphere Reserve Zone.