According to information from Phu Quoc island district in the Mekong Delta province of Kien Giang, yesterday floodwater level reduced to 0.7 meter much lower than the level of 1.6 meters in previous days. In the afternoon on August 10, partially flooding was found in Rach Ong Chi and Ben Tram areas. The Red Cross Society, agencies, organizations, unions, businesses and individuals continued supplying free meals for households who have been forced to evacuate and affected by flooding.

For the last couple of days, Navy Zone 5 has evacuated 1,259 people and transported over 90 tons of goods and belongings of residents and schools in heavily flooded areas to safe places, guided over 1,000 people to travel across swift running water spots, fortified 78 houses for residents, dredged 4,000 meters of sewerage and provided local people life jackets, instant noodle, rice and drinking water with the total value of VND350 million (US$15,077).
On the same day, national flag carrier Vietnam Airlines said that flights were increased to transport passengers affected by the bad weather including three on Hanoi-Phu Quoc route and seven in HCMC-Phu Quoc. Aside from that the carrier also organized four flights from Hanoi and HCMC to take passengers stranded in Phu Quoc home.
The airline organized a total of 32 flights between Hanoi, HCMC and Phu Quoc on August 10.
The People's Committee of Ca Mau province has announced that the province suffered a damage of VND32 billion ($1.38 billion) from August 2-7. In many places, seawater rose higher than sea dyke by 0.4 meter destroying many dyke sections, vegetable fields and fishing farming ponds. The province suggested VND73.9 billion ($3.18 million) financial assistance from the Central Government to implement works to repair and fortify the sea dyke to protect residents' lives and properties.
The province also proposed the Prime Minister, the Ministry of Planning and Investment, the Ministry of Agriculture and Rural Development to assist VND1.4 trillion ($63.31 million) to remove residents to new residential areas in the phase of 2016-2020. In the short term, the province needs VND140 billion ($6.03 million) to upgrade infrastructure in resettlement areas and relocate about 646 households from areas vulnerable for natural disasters.
The Steering Committee for Natural Disaster Prevention and Search and Rescue of the province reported that under influence of the third storm this year, Ca Mau saw heavy rain and strong wind devastate over 100 hectares of summer autumn rice crop affecting the rice output and harvest progress.
In Bac Lieu province, long lasting heavy rains, strong winds and cyclones also wreaked havoc to nearly 200 hectares of rice and other crops.
Reports by the Ministry of Agriculture and Rural Development's delegation, the Central Highlands has 1,207 irrigation reservoirs which are operated in the right process with ensured safety.
Water level in rivers in the southern part of Lam Dong province has dropped below dangerous level. Preliminary statistics show that the province saw over 2,430 houses inundated with 548 households being removed, 2,558 hectares of crops flooded, 30 road spots cut off due to landslide, seven bridges and sewers swept away with the total damage of VND120 billion ($5.17 million).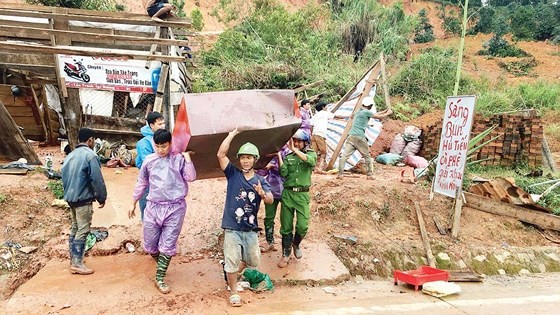 Military and police forces assist residents to repair consequences of flooding in Lac Duong district, Lam Dong province (Photo: SGGP)
Authorized agencies continued clearing landslide debris in Bao Loc mountain pass. At noon on August 10, they rescued a coach falling into the valley in the mountain pass so vehicles were banned from travelling across the area until 3 p.m.

In the southern province of Dong Nai, floodwater receded in Dinh Quan and Tan Phu districts. Water level in rivers reduced by one meter over the previous day.
The two districts reported hundreds of houses damaged due to flooding. The police force in Dinh Quan successfully rescued six people stuck in Ba Lenh islet, Thanh Son commune after a suspension bridge collapsed in Hamlet 8.
The National Hydro Metrological Forecasting Center said that on August 10, hot weather recurred in provinces from Thanh Hoa to Phu Yen with temperatures topping 36 degrees Celsius. It is forecast to increase by an extra of one degree today. The heatwave is predicted to continue spreading in central and northern provinces in coming days.
The southern and Central Highlands regions are facing a new widespread flood as southwest monsoon will trigger heavy rains especially in provinces Dak Nong, Lam Dong, Binh Phuoc and Dong Nai.