Various activities have been held in many localities nationwide in recent days to help ease the pains of Agent Orange/dioxin victims in Vietnam.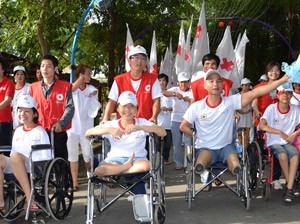 A fundraising walk for Vietnam's dioxin victims is organized in Hanoi on August 7, 2011, with the participation of about 10,000 people
The Association of AO/dioxin Victims of Thai Binh Province, northern Vietnam, launched a movement entitled "Acting for Vietnamese AO victims to mark 50 years of AO catastrophe in the country, Aug. 10, 1961-2011.
Former Vice State President Nguyen Thi Binh, Honorary President of the Vietnam Association of Victims of Agent Orange/dioxin (VAVA) attended the launch ceremony and presented 30 gifts to local AO families with difficulties.
Speaking at the event, Ms. Binh urged the local authorities to provide more care services and put forth necessary policies to help AO victims enjoy a better life.
The provincial Association of AO/dioxin Victims has so far raised nearly 15 billion VND to build 230 houses, present gifts and provide free surgery for AO victims and their descendants.
The association has developed a dioxin detoxification centre with the support of the Association for Better Living and Education (ABLE).
Meanwhile, central Khanh Hoa province's Association of AO Victims, the GTO Communications Company and the Saigon University have jointly organized an exhibition themed "AO Memories" as the first activity during the "Ease AO Pains – Bring Dreams to Life" Programme to mark 50 years of AO catastrophe.
The Aug. 5-10 exhibition is displaying about 60 photos taken by 13 Vietnamese and foreign photographers, featuring mental and physical pains being suffered by AO victims in Khanh Hoa in particular and the country in general.
The Organizing Board coordinated with the Khanh Hoa provincial General Hospital to provide medical check-ups and treatment, and medicine for more than 100 AO victims.