The ongoing 12th National Party Congress held a plenary session yesterday morning chaired by Politburo member and National Assembly Chairman Nguyen Sinh Hung, during which participants discussed achievements over the past five years of implementing the Resolution of the 11th National Congress.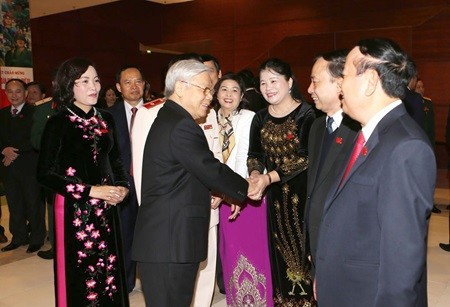 Party General Secretary Nguyen Phu Trong meets delegates at the 12th National Party Congress in Ha Noi today. (Photo: VNA/VNS)
Delegates shared experiences and proposed solutions to efficiently implement objectives and tasks set for national development and Party building in the next tenure (2016-2020).
Opening the discussion, Politburo member and President of the Viet Nam Fatherland Front (VFF) Nguyen Thien Nhan delivered a speech on promoting the strength of the nation in order to successfully realise development targets and participate in building a pure, strong Party and administration.
On behalf of the Viet Nam People's Army (VPA), General Ngo Xuan Lich – Secretary of the Party Central Committee and member of the Central Military Commission's standing committee – affirmed that the VPA would continue its role in national defence and protecting the homeland.
Gen Lich said that amid complex developments in the protection of the nation, fostering national defence and building an army that is revolutionary, elite and modern was vital.
Politburo member and Minister of Public Security Gen Tran Dai Quang highlighted positive changes in preventing and combating crimes and social evils, and improvements in Party-building and staff capacity.
Quang discussed a report on comprehensive reform of public security work during the country's industrialisation, modernisation and international integration. He affirmed the work had contributed to safeguarding national sovereignty, unity and territorial integrity. They have also maintained political stability and an environment of peace.
Quang expressed the ministry's resolve to improve the management of security and order in close combination with accelerating administrative reform, and focus on Party-building and developing the people's security force.
Hoang Binh Quan, Party Central Committee member and Head of the Party Central Committee's Commission for External Relations, raised opinions on the external affairs of the Party and the people's diplomacy, as well as how to successfully carry out Party foreign policy.
Quan stressed the need to fully understand the nation's comprehensive interests in foreign policy.
He mentioned keeping a stable, peaceful environment in the interests of national development and improving the people's living standards.
Party Central Committee member and Minister of Transport, Dinh La Thang, delivered a presentation on developing "compatible transport infrastructure, achieving socio-economic growth, and ensuring national defence and security".
He referred to using all resources properly, stepping up the fight against corruption in construction and investment processes, and accelerating administrative reforms.
In the afternoon, delegates reviewed outstanding achievements the country has made and proposed measures to realise national development goals.
Vice Secretary of the Ha Noi Party Committee and Chairman of the municipal People's Committee Nguyen Duc Chung said the perfection of institutions was a prerequisite for developing a socialist-oriented market economy in the context of extensive international integration.
He emphasised the need to review the current growth model in order to consider whether it is suitable for the new stage of development or not.
He said it was necessary to define the characteristics of the modern market economy with roadmaps for the adjustment and supplement of related policies, adding that the specific features of each region and each locality should be considered.
Nguyen Thanh Phong, Vice Secretary of the Party Committee and Chairman of the People's Committee of HCM City, stressed the need for solutions to improve growth quality and competitiveness.
According to him, perfecting institutions is important in increasing growth quality, with a focus on forming motives, and creating breakthroughs in administrative and public finance reforms.
There was a need to define decentralisation, the division of responsibilities and authorisation while creating a mechanism to enhance the efficiency of the Government's inspections of local authorities, he said.
International integration should be seen as a motive for increasing growth and competitiveness while ensuring social security and sustainable poverty reduction, he added.
Minister of Planning and Investment, Bui Quang Vinh,emphasised the urgency of reforming the political system and economy in a uniform manner.
Vinh proposed that the upcoming reform of economic institutions focus on achieving economic growth in tandem with sustainable environmental protection.
For his part, Le Viet Chu, Secretary of the Party Committee of Quang Ngai Province, discussed the promotion of the sea-based economy.
He affirmed that developing the sea and island-based economy should be closely associated with protecting national sovereignty over seas and islands during the processes of industrialisation, modernisation and international integration.
To realise the goals set forth in the Viet Nam Sea Strategy to 2020, Quang Ngai Province suggested the Party Central Committee adopt plans on investment, construction and modernisation of seaports, along with implementing upgrades to coastal highway networks. It has asked for exclusive policies to support fishermen operating on fishing grounds in the Hoang Sa (Paracel) and Truong Sa (Spratly) archipelagoes.
Deputy Minister of Industry and Trade Tran Tuan Anh asserted that "proactive international integration" must be regarded as crucial in socio-economic development plans in order to build an independent, self-reliant and sustainable economy, accelerating economic restructuring, and participating deeply in regional and global value chains.
Documents discussion
Delegates to the Congress yesterday continued to discuss a number of documents under the chair of Politburo member and President Truong Tan Sang.
Regarding growth model renovation and economic restructuring, Secretary of the Hai Phong municipal Party Committee Le Van Thanh suggested considering the combination of extensive and intensive development and the possible application of one common growth model for the whole country.
Localities that have economic difficulties should focus on extensive development to attract investment, create jobs for locals and boost economic restructuring. At the same time, cities and provinces with rapid industrialisation should focus on quality growth to increase productivity and competitiveness for their economies, he recommended.
Director of the Ho Chi Minh National Academy of Politics Ta Ngoc Tan said the current development requires a specific socialist model for Viet Nam that combines both the universal values of socialism and the country's unique characteristics.
He said the reality of socialism building and national defence, as well as the 30-year doi moi cause in Viet Nam, has produced valuable experiences and lessons. At the same time, many issues have arisen that call for creative uses of Marxist-Leninist viewpoints and Ho Chi Minh thought to analyse and explain.
Developing the country in line with a socialist direction requires both economic and political reform, he said.
Secretary of the Party Central Committee and Chief Judge of the Supreme People's Court Truong Hoa Binh asked for the Politburo's permission to submit to the National Assembly's Standing Committee a project to increase the number of judges and officials for People's Courts at all levels nationwide in order to assist the judicial reform in the 2016-2020 period.
He also proposed researching a suitable model for Party organisations in People's Courts that would meet both the stipulations of the Party's statutes, directions and resolutions and the principle of independent judgment and other basic principles stipulated by the 2013 Constitution.
Minister of Health Nguyen Thi Kim Tien proposed that the 12th Party Central Committee issue a resolution to improve public healthcare and well-being of the population. She also asked the National Assembly and Government to arrange medium-term bonds in the field, especially for remote and underprivileged regions.
Minister of Culture, Sports and Tourism Hoang Tuan Anh delivered his opinion on cultural and human development, suggesting efforts to preserve and promote traditional cultural values while tackling the relations between the nation and the international community for successful integration.
In the afternoon, a delegate from Can Tho city delivered a report on building the city into a high-quality human resources training centre in the Mekong Delta. In addition, a representative from the central province of Thanh Hoa proposed a number of measures to improve local and national business environments in order to give them a competitive edge.