A government's education campaign initiated in 2006 has raised the objectivity of national examinations and save cost as well as time for the activity, the Ministry of Education and Training said at a Saturday conference.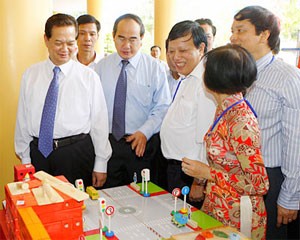 Prime Minister Nguyen Tan Dung (L) and other officials visit a booth of education tools in Dong Thap Province Saturday
Education reformation and the use of multiple choice tests have guaranteed objectivity in exam operation, generalization of the course content and saved possible costs, said officials at the conference, which was joined by Prime Minister Nguyen Tan Dung and his deputy Nguyen Thien Nhan, also the former Minister.
Under the program that implements Decree No. 33, any national tests involved essay writing from a city/province would be marked by teachers from another one in the same region.
The method has limited many frauds in the examination, preventing teachers from giving any marks they like to the students in their locality so that they could claim good exam result, the conference heard.
Yet the officials also said the Decree has still been hindered by many issues.
Many teachers have not been brave enough to publicly express opposition to examination frauds they discovered.
A large number of supervisors deployed in any national exam have put a big pressure on students and the host schools.
Officials at the conference also reviewed three years implementation of a campaign for "friendly schools" and "hard-working students," which has received VND523 billion (US$25.4 million) of support from groups and parents into funds for helping poor students and rewarding excellent ones.
The campaign, which has been put in use in schools almost all over the countries, has also carried out regular extracurricular activities to encourage students' confidence and creativity.
However the activities have not been diversified or given students enough time to show their capacities.
The Prime Minister at the conference ordered officials involved to renovate their educational mindset to bring the most effects possible to the campaigns.
He said top priority should be given to the improvement of education management, including education policies, in order to raise education quality.
Mr. Dung also asked the ministry to make all efforts to give better payments to teachers and officials in the field so that they can serve as the best "examples of ethics."
He ordered an improvement in foreign language teaching and learning and a reduction on unnecessary parts of high school curricula.
All governmental agencies should constantly pay attention to education development in rural and remote areas, the PM said.
They should guarantee poor, ethnic, disabled students and those coming from veteran families receive preferential policies they deserved, he said.
After the conference in the Mekong Delta's Dong Thap Province, Mr. Dung and the officials also paid a tribute to Nguyen Sinh Sac, the father of Vietnam's late President Ho Chi Minh at a relic site in the province's Cao Lanh Town.