Vietnam's national economy made a positive move in May thanks to concerted efforts by ministries, sectors and localities.
The Ministry of Planning and Investment commented this at a meeting discussing the national economy's May performance in Hanoi on May 27.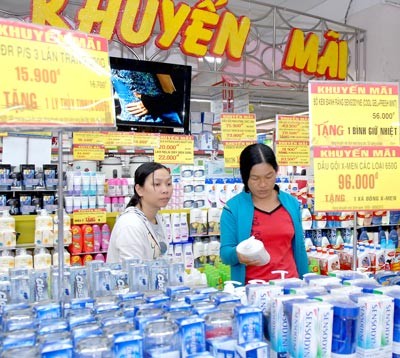 Shoppers at a supermarket in Ho Chi Minh City on May 26, 2010 (Photo: SGGP)
Noteworthy in the month was import-export, the ministry said, noting that exports rose 14.4 percent to 6.1 billion USD compared with April and imports registered a slight rise of 5.5 percent to stand at 6.85 billion USD.
However, for the whole five months of the year exports just posted a year-on-year increase of 12.6 percent to 25.83 billion USD while imports grew 29.8 percent to 31.2 billion USD, resulting in a trade deficit of 5.37 billion USD, or 17.2 percent of exports.
While commending positive developments in the national economy, Deputy Minister of Planning and Investment Cao Viet Sinh also pointed to existing difficulties that need to be addressed promptly with due attention.
He cited an increasing trend in prices, a high lending interest rate imposed by banks, and a widening trade deficit, calling on ministries, sectors and localities to concentrate on seeking various ways and means to boost production and continue to curb trade deficit.
The ministries and sectors should also focus on solutions to increase capital disbursement and step up the implementation of major, urgent projects along with infrastructure construction, export and job generation ones, Sinh said.