Attending the meeting was chairman of the HCMC People's Committee Nguyen Thanh Phong and representatives from the Ministry of National Defense, the Ministry of Transport and the People's Committee of Ba Ria-Vung Tau province.

According to Rear Admiral Nguyen Dang Nghiem, director general of Saigon Newport Corporation (TCSG), TCSG now has 25 member companies with over 6,000 officials and employees and 10,000 workers.

Tan Cang-Cat Lai Terminal belongs to the corporation, invested with automatic management and supervision systems. It is the largest and most modern container port of Vietnam.
The port receives 70 container vessels a week on average accounting for more than 90 percent of the southern region's container market share.
Besides serving military demand in peace and war time, the corporation has developed marine economic services in three fields comprising container business, logistics services, marine transport and service business.
In the first half this year, TCSG's revenue grew over 20 percent, expected to top VND20 trillion ($880 million) this year with profit approximating VND2.1 trillion.
Mr. Nghiem affirmed that TCSG has well completed its mission during peace and war time with achievements obtained during the last past, significantly contributing to the development of HCMC and the country.
TCSG proposed the Ministry of National Defense to maintain the operation of its three state own subsidiaries. A company representative said that TCSG was studying divestment, equitization and stock market listing to some subsidiaries and rearrangement of some member companies to do economic development mission more efficiently.
Military enterprises' restructuring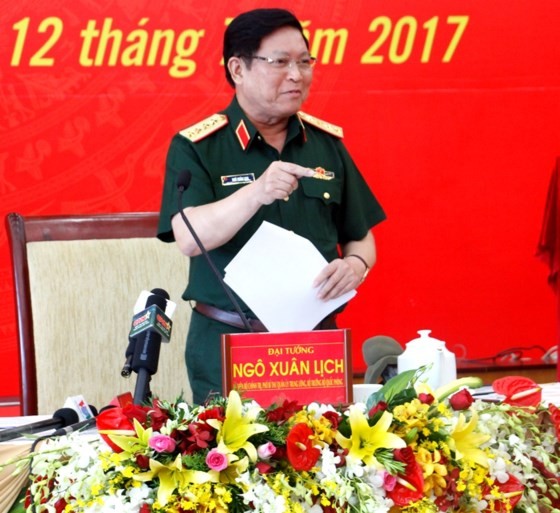 Minister of National Defense General Ngo Xuan Lich affirms the right policy that the military do business at a working session with Saigon Newport Corporation on July 13 (Photo: SGGP)
Stating at the meeting, General Ngo Xuan Lich revealed that in the upcoming time the Ministry of National Defense will implement a project to rearrange and restructure military enterprises, divest from some companies, dissolve under performance ones and rearrange military enterprises to suit the strategy of economic development combined with national defense and security.
The ministry will advise the Prime Minister to adjust and supplement defense economic zones. In addition, it will hand over unused national defense land fund to localities for socioeconomic development, inspect and crack down on businesses and organizations using national defense land for wrong purposes.
Relating to the golf course in Tan Son Nhat International Airport, General Ngo Xuan Lich said that the ministry had halted construction of some items of two golf courses and agreed to let the Ministry of Transport take part of the golf course area in the south of the airport to build a runway and terminal.
Mr. Lich stressed that economic development in combination with national defense is a consistent policy of the Party, State and the ministry. Therefore, they will create conditions for enterprises in the army force to do business and ensure social welfare in all development periods.
Economic development in combination with national defense is a long term mission of the military, contributing in fortifying national defense, increasing national potential, strengthening the self-control of the country by equipping weapons and ammunition for the military and raising Vietnam's international position.
Economic development has been one of functions of the People's Army of Vietnam. The Ministry of National Defense will assign Saigon Newport Corporation to uphold its position of the country's pioneer military enterprise in production and development of maritime economics, contributing in consolidating the country's sea and island defense potential and posture, said the General.
In addition, he required organizations, leaders and officials in the army to always review themselves, remedy shortcomings and limitations, and seriously abide by regulations of the state and the Ministry of National Defense while doing economic missions.
The ministry's point of view is to strictly handle organizations and individuals breaking the regulations to prevent one rotten apple from spoiling the barrel.
Solving traffic jam near Cat Lai seaport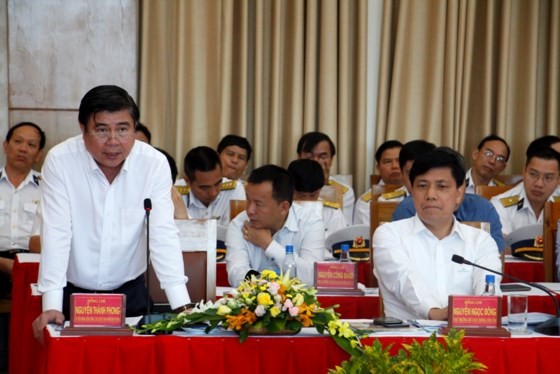 Chairman of the HCMC People's Committee Nguyen Thanh Phong states at the working session (Photo: SGGP)

Chairman Nguyen Thanh Phong affirmed TCSG's economic efficiency and contribution to the city's gross regional domestic product. However traffic jam has regularly occurred in Cat Lai seaport's area comprising Nguyen Thi Dinh, Mai Chi Tho street, ring road no.2 and Hanoi Highway, affecting residents' life.
Last year, the city implemented some short term solutions to reduce traffic jam and the situation was improved. Still from June still now, the volume of goods through the port has quickly increased, causing traffic jam recur in routes leading to the port.
Mr. Phong proposed the Ministry of National Defense and the Ministry of Transport together with the city to study solutions to solve traffic jam more efficiently in the upcoming time.
The city will strive to complete My Thuy Intersection, District 2 this year and six other traffic works in 2019 to reduce traffic jam in port area especially Tan Cang-Cat Lai Terminal and Tan Son Nhat International Airport.