The East Sea situation has turned complicated and multilateral cooperation of Southeast Asian Navies is needed for a safe and stable sea environment, Vietnam Navy official said at the fifth ASEAN Naval Chiefs' Meeting Wednesday.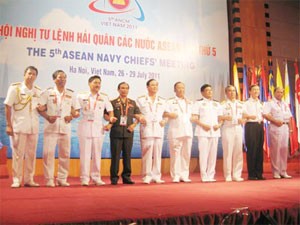 Southeast Asian Navy officers at the fifth ASEAN Naval Chief's meeting in Hanoi on Wednesday
Nguyen Van Hien, Deputy Commander in chief of Vietnam's Navy and who chaired the conference in Hanoi, said that China's violations of the sovereignty of several Southeast Asian countries have caused concerns to many countries in the region and outside.
China's boats in May and June this year have damaged the survey cables of Vietnamese ships, then working within Vietnam's exclusive economic zone and continental shelf.
The Chinese boats have also violated the water sovereignty of Vietnam several other times, and of countries in the region including Malaysia and the Philippines, Hien said.
He said the violations have broken international laws, including the International Sea Convention 1982 and the Declaration on the Conduct of Parties in the East Sea (DOC) 2002.
The situation is not good for any countries in the region, even those that do not have a sea border, the official said.
Hien said that cooperation between Southeast Asian Navies in the region over the past several years have benefited countries within and outside the region.
However, the region is facing emerging security threats as there've been overlapping sovereinty accounments over the East Sea, he said.
Hien said that China's officials have violated international laws and threatened the sovereignty of several countries in the region, sabotaging the peace and stability of the region and the world.
He expressed concerns over the explosion of clashes without a determination for a peaceful solution over the matter.
To overcome the challenges, Hien said that the Navies should enhance their cooperation further on peaceful solutions, like dialouge, and limit military conflicts.
The Navies should work together to establish a common peaceful standpoint that obeys international laws, he recommended.
He also called ASEAN countries to build mutual trust by different ways, including openly declaring their national defense policies to each other for stronger bilateral and multilateral cooperation.
To strengthen the region's Navies, a representative from Brunei also suggested that the ASEAN Naval Chief's Meeting be open to more members outside the region.
Tan Sri Abdul Aziz, the Commander in chief of Malaysia Navy, said that countries in the region should share an official channel for sharing naval information.
The Singapore counterpart informed at the conference that Singapore has set up an information channel on sea security and asked countries in the region to join.