Water levels in the Dong Nai River, which supplies fresh water to 12 provinces and cities in the south's key economic areas, have been dropping at an alarming rate.
Ho Chi Minh City's water-supply and treatment companies say they are concerned, especially as the low levels of fresh water in the river have led to an penetration of seawater from the ocean.
The depth of the river is now 20 cm lower than last year at the same time. This has allowed seawater to enter the river two months earlier than in previous years, said Truong Khac Hoanh, deputy general director of the Thu Duc Water Supply JSC, HCMC.
Our company can now only take water from the river when the ocean tide is ebbing, since this is when fresh water from the upper areas flows downwards, Mr. Hoanh said.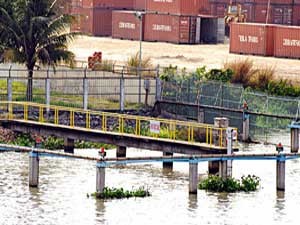 A water-collection station of the Binh An Water Supply Plant in HCMC. The station's operation has experienced daily interruptions due to seawater penetration into Dong Nai River. (Photo: SGGP)
Similarly, the Binh An Water Supply Plant has experienced daily interruptions while attempting to take fresh water from the river since 2008, he added. "It now has to halt water-collecting operations for 4-6 hours every day."
"If water levels continue to recede and saline penetration worsens, companies will face difficulties in treating water as their facilities are not designed to handle salt water," he warned.          
The building of several hydroelectric plants in the upper area of the waterway has led to changes in the river basin and surrounding ecosystem, including the sharp drop in water levels, said Nguyen Van Nga, head of the Water and Mineral Resources Department under the HCMC Department of Natural Resources and Environment.
In addition, the vegetational cover in the area has also reduced from four layers to just one, along with a reduction in forest areas. Consequently, the volume of rainwater retained is much less than before, Mr. Nga added.
Professor Doan Canh of the HCMC Institute of Tropical Biology agreed that the exploitation of water to serve hydroelectric projects has affected the river's depth. He blamed the problem on poor coordination between provinces and cities in managing the river.
To tackle the problem, leaders of all provinces and cities that utilize the river must outline new management policies, said Mr. Canh.
Specifically, "a master plan should be made for all such provinces and cities; forest preservation zones must be set up and vegetational cover must be maintained to retain rainwater; and awareness of protecting the river must be improved among official agencies and the public," he said.
In addition, the management and use of rainwater should also be taken into account, since it is a vast natural resource, he advised. Yet, "no provinces or cities in the country are paying attention to the issue."
Mr. Hoanh called on agencies to pay more attention to selecting locations for collecting river water.
For example, he said, one station built 10 years ago to collect water at the Dong Nai Bridge has been heavily affected by seawater, leaving it possibly useless.
Meanwhile, the Hoa An station in Bien Hoa City, Dong Nai Province, set up around 50 years ago, is still operational as it has not been penetrated with salt water.