Recently a spate of traffic accidents have raised alarm amongst citizens, particularly three accidents that occurred simultaneously on July 6 in Ha Tinh, Nghe An and Thua Thien – Hue provinces in which five people were killed.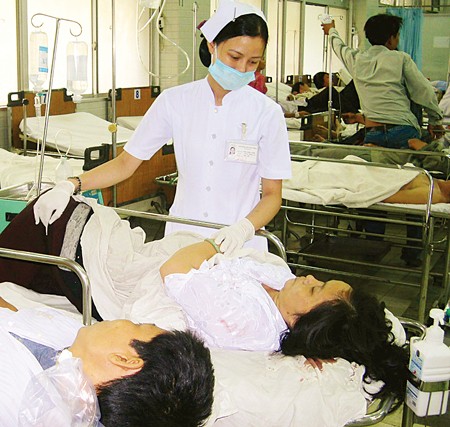 Traffic accident victims at Cho Ray Hospital.(Photo:SGGP)
According to a report by the Ministry of Transport, after four years of implementation of resolution No. 32/2007/NQ – CP, there are visible and positive changes in traffic incidents across the country.
The numbers of traffic accidents have decreased and traffic flow has improved in Hanoi and Ho Chi Minh City.
However, the number of people killed in road accidents this year has increased compared to the same period last year.
During the past three years the numbers of traffic accidents reported nation-wide have dropped to 791 cases and fatalities by 13.2 percent while injuries by 6 percent. However, while traffic accidents have reduced, they are still unacceptably high.
There were 5,705 traffic accidents, killing 4,787 people and injuring 4,399 in the first five months of this year.
The number of traffic accidents fell by 15 cases, but the number of dead and injured increased.
This proves that the efforts to curb traffic accidents have not been effective as the number of dead and injured in still very high.
Ho Nghia Dung, Minister of Transport, said traffic safety is an urgent matter to be addressed. Many accidents continue to occur due to various reasons, like motorbike riders not wearing helmets, drunken driving, weak traffic law enforcement and lack of awareness in people.
Moreover, during the last ten years, infrastructure development has not kept pace with the increase in the number of vehicles on roads today.
According to statistics from Cho Ray, Hue and Viet Duc hospitals, the number of victims of traffic accidents who suffered brain injuries increased by 14.3 percent in 2010 and 10 percent of deaths were caused by drunken driving.
Strict penalties on traffic violators
The Ministry of Transport has submitted a draft resolution to the government, in view of the present traffic situation, offering measures to strengthen enforcement of better traffic safety regulations.
The ministry proposed some measures to reduce traffic accidents and strengthen penalty on violators such as motorbike riders not wearing helmets, drunken driving etc.
The draft resolution focuses on strict handling of drunken drivers because this is responsible for 15-17 percent of traffic fatalities.
Minister Dung said more concerted efforts were needed to change the attitude of people towards drunken driving.
Nguyen Xuan Phuc, Minister and Chairman of the Government Office, said drunken driving will be severely penalized in coming times.