The People's Committee broke ground for the Sa Nhien-Cai Dao Flower Street in Tan Quy Dong Commune, Sa Dec Town, Dong Thap Province on February 9.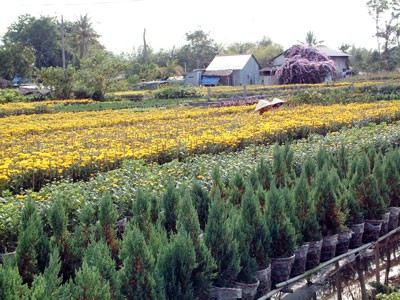 One of flower villages in Sa Dec Town in Dong Thap Province in the Mekong delta ( Photo: Cat Tuong )
The town spent nearly VND15 billion (US$ 712,500) to build the 2,325-meter street spreading 7.5 meters wide.
Sa Dec ornamental flower village was established years ago and is a well-known place to plant ornamental flowers in the country, said Chairman of Dong Thap People's Committee Le Minh Hoan.
Construction for the street pays strict attention to infrastructure that eases the transport of flora. The road is large enough to transport tourists on buses.
Dong Thap Province encourages companies to invest in advances for growing flowers to meet target export by 2020. Sa Dec ornamental village is the tourist highlight for the province.