The Vietnam Children's Fund collected more than VND5 billion to offer almost 1,070 gifts, 1570 scholarships and 100 bicycles to disadvantaged children around the country on occasion of the Mid-Autumn Festival.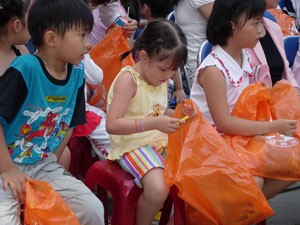 Children will receive gifts on occasion of the Mid-Autumn Festival.  (Photo: KK)
Cities and Provinces nationwide held activities financed by the Vietnam Children's Fund, including free surgery for disabled children, offered wheelchairs and scholarships, and supported building of schools and free playgrounds for children.
Saigon Giai Phong Newspaper cooperated with the Tumor Hospital in Ho Chi Minh City to offer gifts like moon cakes, lanterns and cash envelopes to child patients on September 26.
On the same day, Vietnam Maritime Commercial Joint Stock Bank (Maritime Bank) also presented gifts to 120 disabled child patients at the Lam Dong General Hospital.
The Market Management Department in Dong Nai Province conducted checks on moon cake producers, Chinese-made toys and lantern shops. They seized a number of Chinese-made toys that were illegally smuggled into the country.