DIEN BIEN (VNS)— A solemn requiem was held in the northwestern province of Dien Bien yesterday to commemorate the heroic soldiers who laid down their lives in the 1954 battle of Dien Bien Phu.
Vice President Nguyen Thi Doan, along with representatives from ministries, departments and the Viet Nam Buddhist Sangha, were present at the event to offer incense to the deceased.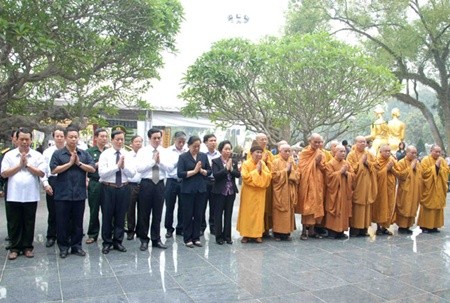 Deputy President Nguyen Thi Doan (centre), representatives of the Viet Nam Buddhist Sangha and leaders from ministries and agencies commenmorate fallen heroic soldiers of the Dien Bien Phu campaign. — VNA/VNS Photo Xuan Tu
The requiem was one of several activities marking the 60th anniversary of the Dien Bien Phu victory of May 7, 1954, which helped end French colonial rule in Viet Nam.
The same day, a ceremony was held in Dien Bien Phu city to officially name Vo Nguyen Giap Road, drawing nearly 1,000 officials, soldiers and compatriots from local ethnic groups.
The street, previously called May 7 Road, now bears the name of the Vietnamese general who masterminded the famous victory under the instruction of the Party and late President Ho Chi Minh.
The road stretches 7km through the wards of Him Lam, Tan Thanh, Muong Thanh and Nam Thanh, which house many historical sites from wartime.
The General's son, Vo Hong Nam, speaking on behalf of his family, thanked the local authorities and people for their affection towards his father and paid his respects to the soldiers who fought in the battle.
As one of modern Viet Nam's most revered figures, General Giap's guerrilla tactics inspired anti-colonial fighters worldwide.