The 11th Senior Officials' Meeting (SOM) of the Cambodia-Laos-Vietnam (CLV) Development Triangle Area opened in Gia Nghia town, the Central Highlands province of Dak Nong on November 1.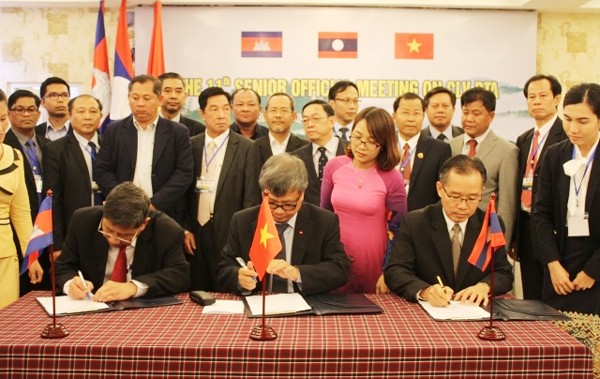 Heads of the three countries signed a Mou in the conference. (Photo: nhandan.com.vn)
The meeting was jointly chaired by Vietnamese Deputy Minister of Planning and Investment Nguyen The Phuong, Secretary of State at Cambodia's Ministry of Commerce Mao Thora and Lao Deputy Foreign Minister Thongphane Savanphet.

At the meeting, heads of the three countries' SOM delegations highly appreciated the success of meetings of the four sub-committees of security and foreign affairs, economy, society and environment, and local cooperation, which took place on October 31 in Dak Nong.

They also have analysed cooperation between the three countries since the 8th SOM in 2014 and the 10th Meeting of the Joint Coordination Committee on CLV Development Triangle Area in 2015.

The implementation of the memorandum of understanding (MoU) among the three countries on special preferential policies and the adjusted Socio-Economic Development Master Plan for the Development Triangle Area by 2020 was reported in the meeting.

Delegates called on the relevant ministries, agencies and local administrations of the countries to organize activities and programs to implement the MoU.

They highly valued the support of Japan and the Asian Development Bank (ADB) for the area over the years and asked each country to prepare five new projects for submission in the 9th CLV Summit, scheduled for late 2016 in Cambodia.