The Vietnamese Party and State will steadfastly welcome non-governmental organisations (NGOs) to work in Vietnam with a raft of incentives, especially in priority areas for national development.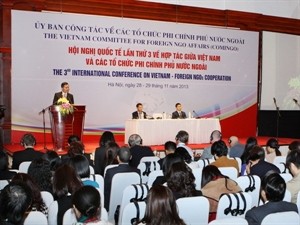 Third international conference on NGOs cooperation with Vietnam held in Hanoi (photo:VNA)
Deputy Prime Minister and Foreign Minister Pham Binh Minh made the statement at a reception in Hanoi on November 29 for representatives from foreign NGOs who are here to attend the third international conference on their cooperation with Vietnam.
Informing his guests that Vietnam is making the most of financial assistance provided by NGOs, Minh sought closer coordination with them in poverty reduction, education, health care and post-war recovery with long-term and sustainable funding.
Foreign NGO representatives highly valued Vietnam's efforts in its national renewal, industrialisation and modernisation as well as in improving people's living standard and social equality.
They called on Vietnam to simplify and publicise administrative procedures relevant to their operations so that they are able to better run projects.
The guests vowed to stand side by side with Vietnam on its path of socio-economic advancement.