Deputy Prime Minister Nguyen Sinh Hung urged government and local agencies to jointly support the development of Khmer ethnic areas to raise the living standards of their people at a conference yesterday.
Mr. Hung made the request at a conference held in Ben Tre to review 15 years of implementation of an instruction by the Party Secretariat on issues involving Khmer ethnic people in southwestern Viet Nam.

Deputy PM Hung, head of the government board for Mekong Delta development, said relevant ministries and agencies besides their own must work together closely to hit the economic development target set for the southwestern region to improve living and intellectual standards of the Khmer people, and to ensure political and social security in the region.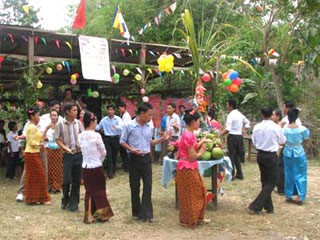 Khmer ethnic people celebrate "Chol Chhnam Thmay" festival in southern Viet Nam
During the past 15 years, the lives of the Khmer people have seen substantial material and spiritual improvement. Poor infrastructure has been rebuilt.

Over 100,000 households have received financial support to develop their production, and 60,000 families have been provided with housing.

All communes now have medical clinics. More schools have been constructed so that more Khmer ethnic children can receive education.

However, teaching the Khmer language at local schools is still a puzzle, as there remains no unified curriculum issued by education agencies.

Though many localities have effectively implemented social policies, there are still Khmer families facing unemployment and difficult living situations.