Deputy Prime Minister Hoang Trung Hai has asked concerned parties to set up investment and operation plans to put the competitive power market in use at the beginning of next year.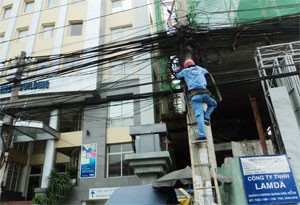 Deputy PM Nguyen Trung Hai asked concerned agencies to work fast to put the competitive power market into operation (Photo: Minh Tri)
The deputy PM ordered the Ministry of Industry and Trade to cooperate with the Electricity of Vietnam (EVN) to set up minimum investment plan for information technology infrastructure and personnel training for the operation.
EVN, the country's power monopoly, is allowed to speed up on several projects that serve the opening of the market.
The group can consult the Prime Minister if it faces issues beyond its authority.
Mr. Sang asked EVN to form power generation corporations in the third quarter this year and experiment the information technology by the end of November 2011.
The company should continue its cooperation with the World Bank to have the bank subsidize parts of the cost once the market power prices are implemented, he said.
He said a fund for stabilizing power prices would be set up if necessary.
The deputy PM also asked the Ministry of Industry and Trade to plan for the establishment of a national power price adjustment and big power units to join the market.
The development of competitive power market is Vietnam's long-term strategy which was legalized in the 2004 Law of Electricity and detailed in a Prime Minister's Decision in 2006, according to a statement on the government website early this month.