Deputy Prime Minister Vuong Dinh Hue, head of the National Steering Committee on Price Management, has instructed not to increase the price of medical services not covered by the health insurance fund this year.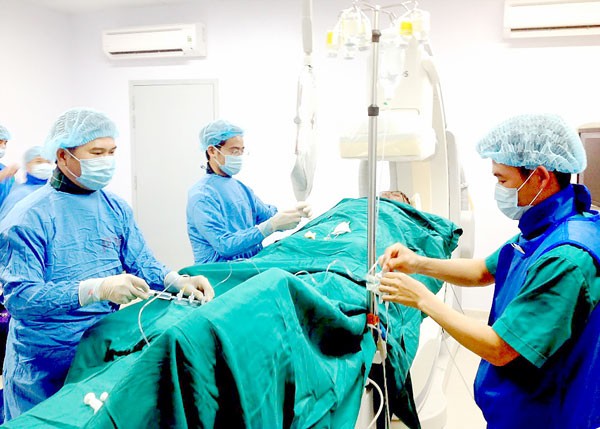 Doctors of a hospital prepare for a surgery (Photo: SGGP)
That is among the Deputy PM's instructions on price management in the lead of yearend.
The Ministry of Health has been required to guide the provincial and municipal people's councils to prepare a scenario, roadmap and calculate increase levels for uninsured services next year.
For insured services, it should work with the General Statistics Office and relevant agencies to count salary and allowance and carefully calculate the increase level as well as time to control inflation.
These agencies have been asked to send a proposal to the National Steering Committee on Price Management and the Prime Minister before making price adjustments.
In addition, the Ministry of Health, the Ministry of Finance and the Social Insurance Agency have been prompted to implement bid invitation to lower medicine prices.
According to the instructions, price management should be conducted tightly and drastically to control inflation in accordance with set targets.
Deputy Prime Minister Vuong Dinh Hue requested the State Bank of Vietnam to continue curbing core inflation at 1.81-2 percent, stabilize and reduce loan interest rates. The Ministry of Industry and Trade should stabilize the retail prices of necessary items in the remaining months of the year.
The ministry and members of the Price Management Steering Board should forecast inflation and put forward a plan to manage necessary item prices within their jurisdiction. The plan must be sent to the Ministry of Finance before November 20, he required.
The Ministry of Industry and Trade has been asked to keep a close eye on the world petrol price and coordinate with the Ministry of Finance to manage domestic petrol price as per regulations, reasonably use the price subsidization fund in order not to create the unexpected inflation.
Measures should be carried out to balance supply and demand in the market, flexibly manage import quotas especially for sugar to meet surging demand in the Tet holiday season.

Milk products' price subsidization for children of less than six years old should be continued until December 31.
The Ministry of Transport together with the Ministry of Finance should guide BOT (Build-Operate-Transfer) investors to reduce toll level for at least 10 toll booths to contribute in inflation control.