Vietnam's standing Deputy Prime Minister Nguyen Sinh Hung has become the 13th National Assembly Chairman as winning 91.4 percent of votes Saturday during the assembly's first session.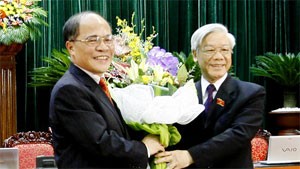 Newly-appointed National Assembly chairman Nguyen Sinh Hung (left) gives flowers to his predecessor Nguyen Phu Trong as the appointment was announced Saturday
Mr. Hung, 65 years old and a holder of economics doctoral degree, has been the Deputy PM since June 2006.
He has been an NA deputy for 14 consecutive years and member of the Party Central Committee for four consecutive terms.
Before becoming the Deputy PM, Mr. Hung had served as head of the State Treasury, then as the Deputy Minister and Minister of Finance since November 2006, according to the news website VietNamNet.
Speaking after the appointment, he said he is aware that the new position "is a great pride and also a big responsibility granted by the country and the residents." Hung was cited by news website Dan Tri.
The new chairman promised to do his best "to make the National Assembly a truly supreme representative of the residents and the most powerful unit as stated by the country's Constitution."
The NA also selected four deputy chairpersons, including three incumbents Tong Thi Phong, Uong Chu Luu, Huynh Ngoc Son and the new face Nguyen Thi Kim Ngan, the Minister of Labor, Invalids and Social Affairs.
Mr. Ksor Phuoc, Chairman of the 12th NA Ethnics Council, was reappointed for the new term.
The Committees of Finance and Budget, of Culture, Education, Youth and Children, and that of Social Affairs also have their old chairpersons kept for the new five-year term.
Mr. Nguyen Hanh Phuc became the head of the new NA office.
Mr. Phan Trung Ly was appointed heads of the Laws Committee, Nguyen Kim Khoa of the National Defense and Security Committee, Phan Xuan Dung of the Science, Technology and Environment Committee, and Tran Van Hang of the Diplomacy Committee.
Mr. Nguyen Van Hien, former judging head of the Supreme People's Court, was appointed the head of the Justice Committee and Mr. Nguyen Van Giau, governor of the State Bank of Vietnam was elected as the head of the NA Economy Committee.
Mr. Hien and Mr. Giau thus became members of the NA Standing Committee for the first time, the Tuoi Tre said.
Nguyen Phu Trong, Chairman of the 12th National Assembly, said that the nomination list has tried to strike a balance between old and new faces, social and economic sections, as well as regions.
New NA Chairman Hung also announced the nomination of Mr. Truong Tan Sang, a permanent member of the Secretariat of the Party's Central Committee, as the new President of State.
President selection result will be officially announced by the end of Monday.
The first session of the 13th National Assembly started Thursday and is set to close on August 6.