The delegation paid tribute to the late poet and scholar under the Nguyen dynasty and honored his outstanding contribution to the development of the country.

On the same day, a ceremony commemmorating the 240th birth anniversary and the 160th death anniversary of Nguyen Cong Tru was held in Ha Tinh City.
Nguyen Cong Tru was born in Uy Vien village, Xuan Giang commune in Ha Tinh province's Nghi Xuan district. Hewas evaluated as well versed in both governmental and civil affairs, skilled in both military and literary tasks.
He received the First Laureate at the interprovincial examination in 1819, then he went through many positions, includin low-ranking mandarin, Ministerial Advisor of the Right (Hữu tham tri), Governor , Censor-in-chief of the Left, Counselor Minister, Ministerial Advisor and Officer of the Interior.
When he was an officer in charge of farms, Nguyen Cong Tru broke fresh ground to bring farmers 45.990 acres of enriched rice fields. Districts, Kim Son in Ninh Binh province and Tien Hai in Thai Binh were the most enriched ones.

As a confucian Nguyen Cong Tru had also many valuable liteary works in Nom script and greatly contributed to the development of Ca Tru (ceremonial singing that was included in the UNESCO list of World Intangible Cultural Heritage in Need of Urgent Safeguarding in 2009.
Deputy Prime Minister Vuong Dinh Hue lays flowers at Nguyen Cong Tru's memorial shrine.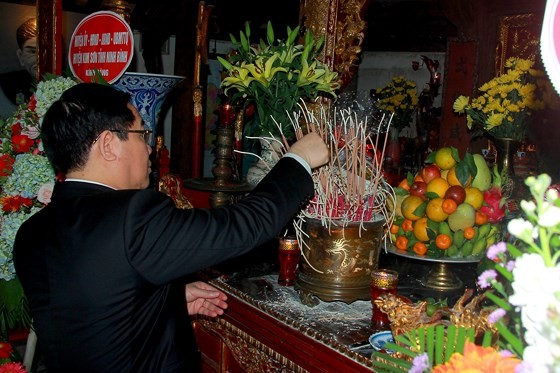 Deputy PM offers incenses in Nguyen Cong Tru temple.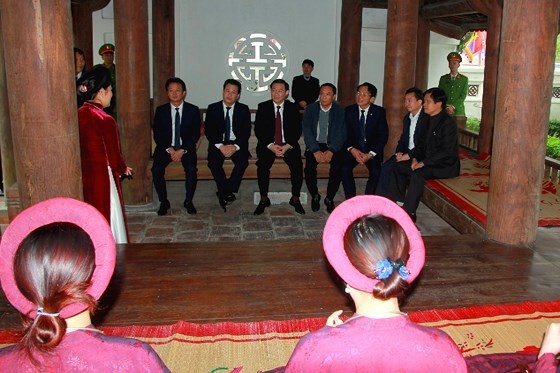 The delegation enjoys a performance of Ca Tru.