Millions of households in the Mekong Delta fear that fall in price and exports, along with high inventory, will jeopardize the demand for their summer-autumn rice crop, currently beginning to be harvested.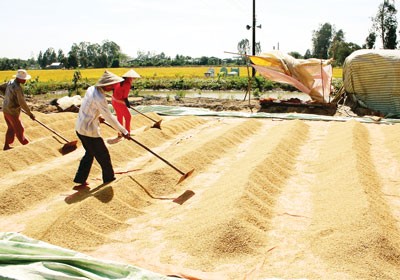 Farmers are concerned about consumption of summer-autumn rice in the Mekong Delta (Photo: SGGP)
According to the Ministry of Agriculture and Rural Development, the Mekong Delta has seeded 1.2 out of 1.68 million hectares of summer-autumn rice.
Dong Thap, Soc Trang, Long An and Kien Giang Provinces are reaping about 100,000 hectares. Harvested area is expected to reach more than 200,000 hectares by mid May.
Vo Van Duc, a farmer in Thap Muoi District in Dong Thap Province, said that a kilogram of fresh rice fetches only VND4,200-4,500 now. With fertilizer, petrol and labor prices having increased, farmers are left with much lower profit levels.
Pham Thien Nghia, secretary of the Party Committee in Thap Muoi District, said that this is peak harvest time for 38,000 hectares of summer-autumn rice in the district. However, local farmers are very anxious due to the low rice price.
Farmers have harvested 5,000 out of 22,000 hectares of summer-autumn rice in several communes in Tan Hong District of Dong Thap Province.
Phan Thanh Xuan, deputy head of the district Department of Agriculture and Rural Development, said that farmers are insecure because rice price is too low.
 
Similar conditions are in Tan Hung and Vinh Hung Districts in Long An Province.
 
Rice exports have slowed even though export rice prices have fallen to the lowest level as compared to world prices.
Vietnam Food Association said that businesses now have about two million tons of unsold rice in stock. As a result, consumption of the estimated nine million tons of summer-autumn rice is likely to be in jeopardy in the Mekong Delta.
Huynh Van Ganh, director of the Department of Industry and Trade in Kien Giang Province, said that the province now has 588,000 tons under inventory from the winter-spring crop. Of this, 250,000 tons is fragrant rice.
Farmers have been unable to sell the winter-spring rice because of low prices over the last few months.
Summer-autumn rice crop has been ready for harvest to further increase the rice output amidst the price drop.
The provincial People's Committee has proposed to concerned ministries to permit them to purchase another 100,000 tons of rice for stockpiling, aimed to reduce inventory.
While local residents and authorities are very anxious, relevant ministries and the Vietnam Food Association have not put forward any measures to consume summer-autumn rice. The rice price is feared to continue to drop when the Mekong Delta enters peak harvest season.
Dr. Le Van Banh, head of the Mekong Delta Rice Research Institute, said that farmers cannot stockpile rice themselves because they do not have warehouses and need capital to resume production. As a result, they usually sell rice right after harvest.
He said that relevant ministries and departments should quickly put together measures to consume rice in order to rescue rice growers from the current difficult situation.
In the long term, experts said that Vietnam should reconsider rice production and export policies, making them suitable with the new condition.
Rice supply is now higher than demand in the world. Indonesia and the Philippines are heading towards the policy of self-sufficiency in food. Vietnam's rice export has also faced the increasing competitiveness from Thailand, India, Pakistan and Myanmar.