Viet Nam will work with other countries to develop its river basins and deltas in a sustainable way, Deputy Minister of Natural Resources and Environment Nguyen Thai Lai said at an international conference that began yesterday in HCM City.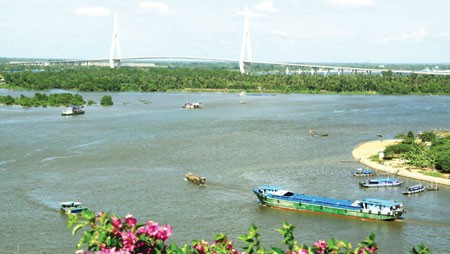 A part of the Hau River passing the southern city of Can Tho. The country will develop its river basins and deltas in a sustainable way (Photo: VNA/VNS)
Nguyen Thai Lai and more than 350 deltaic leaders from around the world are in HCM City for the World Delta Dialogues II to address the challenges affecting all great deltas and the solutions needed to solve problems.
Two of the earth's great river systems, the Mekong in Viet Nam and the Mississippi in the US, are the focus of discussion at the event.
The conference is co-organised by the American WETLAND Foundation, Viet Nam National University – HCM City and the Dutch Government.
Speaking at the conference, Lai explained that deltas, which are located at the end of large rivers and the border of seas, contain fertile soil and are the habitats for millions of people around the world.
Moreover, they are sensitive to changes in water resources and subject to severe climate change and upstream development.
Lai said the Mekong Basin was facing challenges related to water resources, salinity and other impacts of climate change.
It has become one of the five basins in the world experiencing the most significant decrease in flow due to drought, he said.
Sea levels in Viet Nam could rise by one metre by 2100, and 40 per cent of the Mekong Delta area could be lost, seriously affecting agriculture, fishery production and the livelihood of millions of people in the region and food security of Viet Nam and other countries.
King Milling, chairman of the American WETLAND Foundation, said: "We come to the Mekong Delta both in search of answers and to leverage what we have learned in attempting to restore one of the most productive US assets, the Mississippi Delta.
He said that sustainability of delta regions – environmentally, economically and culturally – was necessary, not just for the next generation but for the many generations to come.
Rising sea levels due to global warming, along with subsidence and river system development will all be discussed at the three-day conference, along with other challenging global issues.
Dr Phan Thanh Binh, chairman of Viet Nam National University – HCM City, said that low water flows, flood flows, alluvium from upstream sources, as well as rising sea levels from downstream, were all uncertain and nearly impossible to control.
Le Thanh An, US Consul General in HCM City, said deltas were the guardians of historic cultures and the site of valuable resources that could be put into service for humanity.
"In the US, we have a rapidly eroding Mississippi River delta. Sediments and nutrients that normally would support a healthy, growing delta ecosystem area are instead trapped within a levee system designed to control flooding and ensure a sound navigation route," An said.
America's wetland erodes at an average equivalent of a football field of land each hour.
If the ecosystem continues to degrade, the support it provides for the levees and navigation routes will be lost, he added.
"So we face a conundrum: how do we balance the multiple, and often times conflicting, uses of a river, while ensuring its sustainability," he said.
Also speaking at the conference, Renske Peters of the Ministry of Infrastructure and Environment of the Netherlands, said that large populations used massive resources and produced not only important economic output but also copious waste, which influences limited water resources in two ways, by extraction and by pollution.
The theme of the conference will focus on preventing "unintended consequences," or actions related to managing river systems that later create negative and costly consequences.
Stephen Gambrell, director of the Mississippi River Commission, will speak about that issue today.
He will also illustrate the unintended consequences of river management decades ago that have left coastal areas in the US losing land at one of the fastest rates on the planet.
The first World Delta Dialogue event was held in New Orleans in the US in October in 2010, with 15 delta regions represented.
An action agenda to both help draw attention to coastal land-loss issues and create solutions was adopted by delegates who represented governments, NGOs, science, engineering and cultural groups.
Today, the conference continues with other discussions about delta-related issues