The rate for deep debts has drastically decreased to 7 percent in the first quarter this year, said Governor of State Bank of Vietnam Nguyen Van Binh at a monthly cabinet meeting on April 1.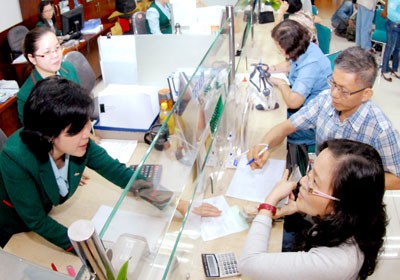 The Government announces that bad debts have reduced to 7 percent in the first quarter 2014 on April 1 (Photo: SGGP)
The State Bank is continuing to improve documents to tackle the issue, said Binh. They are expecting to handle about VND70-100 trillion (US$3.32-4.74 billion) this year.
Up to seven extra banks will be merged in 2014, which will total to 10, said Binh.
The State Bank has handled nine ineffective operation banks since 2011. Of these, Global Petrol Bank currently was on the market for foreign partners. Others were bailed out of bankruptcy.
The Government has approved a project to restructure Vietnam Posts and Telecommunications Group (VNPT). Mobifone will no longer be owned by the group.

Prime Minister Nguyen Tan Dung has instructed to equitize Mobifone, said Minister of Information and Communications Nguyen Bac Son.
Vinaphone will still belong to VNPT.