Floating markets on rivers in the Mekong Delta have existed for hundreds of years and are not merely a place for buying and selling of farm produce but have over time become quintessentially a cultural and economic traditional heritage of people in South Vietnam.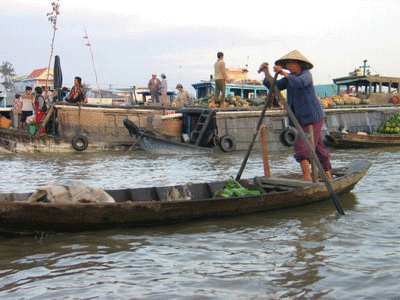 Trade activities continue all day on the floating market (Photo: Nguyen Nam)
Nga Bay Floating Market, also known as Phung Hiep floating market, is the biggest floating market in the Mekong Delta. It is called 'floating market' because of its mobility on the river.
On a vast and boundless water surface, hundreds of boats, big and small, gather together and create a floating arena for trade activities. The market is open all day long, but is most spirited early in the morning.
Boats of different sizes and shapes thread their way along the waterway in an atmosphere of vibrant activity, in a fun filled yet businesslike environment, purchasing and bargaining, with sellers and buyers bellowing over noisy boat engines.
At the bow of each boat is attached a bamboo pole and a sample of the goods being sold from the boat are strung over it, making it easy for buyers to find what they need. The poles are also of different sizes, upright or bent which makes for an interesting graphic view and is a really unique form of advertising.
Bay Khanh, an 80-year-old resident in Dai Thanh Commune, recalls with nostalgia the floating market's old glory. In the old days, around 1,000 boats, even 3,000 during Tet holidays, of all sizes gathered in Nga Bay Floating Market and lit oil lamps at night, which all appeared stunning and colorful, like garlands of flowers. Some amateur farmers sang and played music through the night, creating a dreamlike atmosphere.
Duong Van Day, former director of Saigon Tourist, is a local man and had discovered the Phung Hiep floating market and exploited it for trips to the Mekong Delta. Many international holidaymakers have remarked that the floating markets in Thailand are not as beautiful as the ones in Vietnam,   although the Thai government spends a lot of money to promote and preserve floating markets for tourism.
However for traffic safety on rivers, the local government had removed the floating market to a location three kilometers further away from the old place. This subsequently and gradually reduced the hustle and bustle of the market as well as its prosperity, as fewer boats and people participated in trade activities on the river and tourists' became less frequent. The reason could also be because of its inconvenient location with no road access.
The fact that the Nga Bay Floating Market lost its glory caused pressure on the local government and they began to call for ideas to restore it via their website.
Currently, there is an ongoing and heated debate among the public, experts, economists and travel agencies on the benefits of restoring it. According to Vo Thi Thang, former chairperson of Vietnam National Tourism, the province should restore the market and if necessary, her department will give financial support. Huynh Phong Tranh, former chairman of the People's Committee of Hau Giang Province and current government general inspector, believes that restoring the floating market to its old location will require VND50 billion (US$2,4 million).
In mid June the Party Congress in Nga Bay Town discussed the restoring of the floating market, and developing it for tourism. In July, a seminar organized by the Information Center for the Promotion of Hau Giang Tourism, held a debate between experts, university lecturers and travel agencies. 
Concerning the return of the famous floating market's old glory, participants said the government should also help revive the traditional handicraft villages, as those products can be sold as souvenirs to tourists.  Truong Van Ngon, deputy director of Can Tho Tourist Company is optimistic that the market will return to its lost glory within a period of three years.
The restoring of the well-known floating market is not just an economic matter but also a cultural one for Hau Giang Province in particular and the Mekong Delta in general, bringing back to life its 300-year-old history.