Government penalties have failed to deter companies that consciously poison thousands of Da Nang households with rubber fires and toxic water.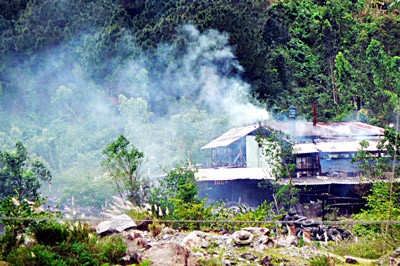 Exhaust fumes is seen from Viet Hung Tuan Joint Stock Company's rubber-burning factory at Hiep Hoa Bac Ward, Lien Chieu District, Da Nang City. (Photo:SGGP)
Several factories in Hiep Hoa Bac Ward, Lien Chieu District, have been warned, penalized and even had their licenses revoked for discharging undue amounts of hazardous smoke into residential neighborhoods in flagrant violation of environmental laws. However, the pollution has not stopped, and local residents are getting sick.
Smoke and dust from the Viet Hung Tuan Joint Stock Company's rubber burning factory in Hiep Hoa Bac fills homes day and night with the foul stench of burning rubber, ruining the neighborhood's once pleasant atmosphere.
The dust keeps at least 50 households perpetually dirty as the wind carries it over a large area, mostly affecting residents at the Song Da Mechanics Repair Enterprise company housing, some 500 meters from the factory's chimney.
Nguyen Tan Duy, 31, a Song Da employee who lives in the collective housing units, said the factory had ruined the neighborhood ever since it opened three years ago.
People cannot eat or sleep due to the stench of burning rubber that wafts into families homes each morning and evening, Duy said.
Tran Ngoc Doanh, another Hiep Hoa Bac resident, said the pollution was getting worse and more fumes and smoke were being emitted by several companies in the ward.
Ho Cong Ngoc, the ward's Neighborhood 25 Committee Leader, said many elders and children were suffering with respiratory problems, difficulty breathing, and asthma.
Ngoc said the fumes were not the only problem.
Many factories were dumping untreated wastewater directly into local water supplies, he said.
Nguyen Thi Ha from the ward's Neighborhood 25 Committee, said she had to spend VND400,000 (US$21) each month buying fresh water because the water in local wells had become yellow and smelled fishy.
According to leaders of the Hiep Hoa Bac People's Committee, more than 40 factories operate in the area, six of which are causing serious environmental pollution. They are Hai Van Cement Company, Ngu Hanh Son Cement Company, Viet Hung Tuan Joint Stock Company, Suc Tre Paper Manufacturing Company, Thinh Phu Paper Manufacturing Company, according to the committee.
Huynh Xuan, head of the Lien Chieu District's Department of Natural Resources and Environment, said the department had revoked Viet Hung Tuan's license in August last year due to its violation of environmental regulations. However, the company continues polluting the area, according to Xuan.
Da Nang city inspectors from the Department of Natural Resources and Environment had previously launched investigations that temporarily stopped some factories from polluting Hiep Hoa Bac, said Xuan. However, many factories had since resumed polluting the environment intentionally.
The Suc Tre Paper Manufacturing Company was fined VND22 million ($1,200) for environmental law violations, however, it still continues to pollute, Xuan said.
The government has planned for Da Nang to become an "environmentally friendly" city by 2020, but Hiep Hoa Bac residents are not holding their breath.