According to the Ministry of Agriculture and Rural Development, Vietnam's rice output this year will reach an estimated 43.4 million tons, an increase by more than one million ton from last year.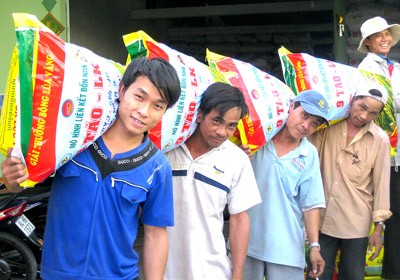 Farmers carry their harvested rice in Tra Vinh Province (Photo: SGGP)
Vietnam will cultivate rice in about 7.75 million hectares this year, up by 1.2 percent over last year, with an average yield of 5.6 tons per hectare.
By the end of September, provinces in the southern region will have harvested 1.93 million hectares of summer-autumn rice crop, from which 1.62 million hectares will come from the Mekong Delta.
Average productivity is 5.5 tons a hectare in the southern region and the Mekong Delta, bringing total rice output to more than nine million tons.
Despite increase in output, farmers have not as yet earned substantial profits because production and other overhead costs have escalated.
At present, farmers in the Mekong Delta are seeding the autumn-winter crop on an area of 600,000 hectares, mainly in An Giang, Dong Thap and Kien Giang Provinces.
The immediate concern now is that several areas have seeded rice where dykes are not strong enough and need fortifying, for instance in Kien Giang Province where 7,000 hectares is in danger of being completely inundated by flooding.
Over the last two weeks, continuous heavy rainfall has surged floodwaters to inundate tens of thousands of rice fields. The agriculture industry is now making efforts to help farmers pump out water from the flooded rice fields.