Continually occurring hailstorms in the northern mountainous region in recent days have killed one person, injured 44, left tens of thousands of houses roofless or damaged, and destroyed thousands of hectares of rice and vegetable crops.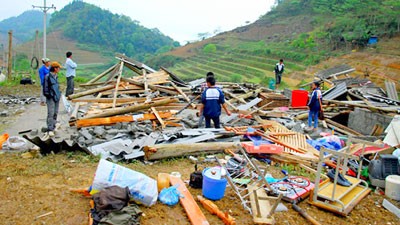 Hailstorms collapsed several houses in Lao Cai Province
Hailstorms also hit provinces like Lao Cai, Ha Giang, Cao Bang, Bac Kan, Thai Nguyen, Son La, Tuyen Quang, Thanh Hoa and Nghe An. Of these, Lao Cai was the worst hit.
After recently being slammed by a cold front, Meo Vac District in the northeastern province of Ha Giang experienced a 15-20 minute hailstorm on March 31, which blew roofs off nearly 100 houses and devastated almost 700 hectares of plants and vegetables.
Hailstones of 6-7cms were accompanied by rain and thunderstorm. Lung Pu and Pai Lung Communes and Meo Vac Town suffered the most.
 
Hailstorms also left one injured, 79 houses damaged and destroyed 20 hectares of fruit trees and vegetables in Son La Province on the same day.
Lao Cai Province was the worst hit with five out of nine districts lashed fiercely. Total damages are estimated at VND270 billion (US$12.9 million).
Muong Khuong, Bac Ha, Si Ma Cai and Bao Yen Districts have reported one dead and 37 injured in the two hailstorms on March 27 and 29. Seven houses collapsed and nearly 12,000 others were badly damaged.
Cao Bang Province was also lashed by a hailstorm on March 26 with two people injured and 1,162 houses damaged.
Ha Giang Province recorded four people wounded due to a hailstorm on March 27. The province also reported hundreds of houses shattered and damaged and thousands of hectares of farm crops totally ravaged. Losses in the province are estimated at VND5 billion ($240,000).
Hailstorms also occurred in Thai Nguyen and Tuyen Quang Provinces on March 29. At least three thousand houses were destroyed.
According to the National Hydro Meteorological Forecasting Center, hailstorms have been triggered from cold fronts, which moved in the northern region after scorching weather. This phenomenon will continue until the end of May.
 
The northern region saw a cold front with heavy rain on March 31. Average rainfall measured 29-45mm in Hanoi.
However, heavy rainfall increased water supply for crops and hydropower and irrigation reservoirs and reduced risk of forest fires. It also eased the ongoing drought conditions in parts of the central region.
Related articles:
Cold front likely to bring more hailstorms in northern region
Lao Cai Province repairs damage after hailstorm
Flash hailstorm devastates Lao Cai Province