The Ministry of Planning and Investment has suggested to the Government to continue its focus on curbing inflation and stabilizing macro-economy in the last months of the year.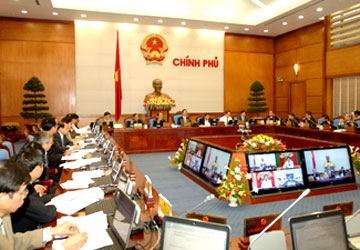 The Cabinet in its monthly meeting (File)
The suggestion was made at the regular monthly meeting of the Government in Hanoi on July 1 to review the country's socioeconomic performance in June and the first half of the year, the implementation of the Government Resolution 11 and discuss plans for the second half of the year.
 
According to the ministry report, the country has made many positive achievements in stabilizing macro-economy and the local market and in curbing inflation. 
 
The total export turnover for the first six months is estimated to reach US$42.33 billion, a year-on-year rise of 30.3 percent and three times higher than the target of 10 percent set for this year.
 
The ministry said the export turnover will continue to grow in future.
 
The trade deficit also saw a decrease in the same period. In June alone, the trade deficit was around US$400 million while it was US$1.42 billion in May.
 
The report said the price hike rate tends to reduce gradually.
 
Because the country has concentrated on curbing inflation and stabilizing macro-economy, the economic growth in the first six months was affected, with the growth rate reaching 5.57 percent, lower than the 6.16 percent posted in the same period last year.
 
The GDP growth rate for the second half of the year is forecast as higher than that in the first half, which will bring the rate of the entire year to 6 percent.
 
There remain three problems in the economy which the Government needs to address. The first one is the implementation of tight monetary policies that have inconvenienced enterprises.
 
The second is the trade deficit that is set to rise, while the fluctuation in exchange rates and prices of import goods might affect an improving trend in the balance of payments.
 
The last is inflation and price hike risks that have created difficulties in containing inflation, stabilizing prices and developing production and businesses.
 
The Ministry also proposed important measures to curb the inflation rate at around 15-16 percent, the GDP growth rate at 6 percent, the credit growth below 20 percent, the trade deficit at less than 16 percent of the export turnover, and reduce overspending to less than 5 percent of GDP.
 
The ministry said the Government should be patient and consistent in regulating prices of electricity, fuel and coal in line with the market mechanism and adjust taxation policies towards encouraging enterprises to produce products that can replace imports and limit import of luxury and unessential goods.