Sixty-three workers at the Vietnam Machinery Erection Corporation (LILAMA) may have been exposed to radiation while working at the Dung Quat Refinery in the central province of Quang Ngai.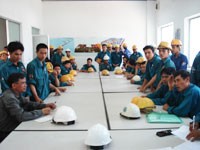 Workers worry whether they have been exposed to radiation (Photo: Thanh Nien)
The workers were sent to the Da Lat Institute of Nuclear Research in the Central Highlands province of Lam Dong for further examination.

On Tuesday afternoon, the 63 became agitated when they heard that their work site had a source that emitted radiation at a rate that greatly exceeds safety standards.
The workers recently heard that the Electro-mechanics Testing Joint Stock Company, a subsidiary of LILAMA, did not strictly abided by safety rules when it used a radioactive source to test the welding lines of containers filled with propylene glycol, said Mr. Khong Minh Tu, one of the workers. The company insisted it had measured the level of radioactivity in the surrounding area and found that it has met safety standards.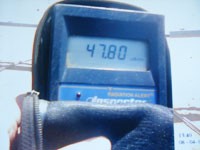 Measurements from the gauge show the level of radioactivity is many time higher than the safety standard (Photo: Thanh Nien)
However, when labor safety officers of Technip, a subcontractor for the refinery, measured the level of radioactivity, they found that it was many time higher than the safety standard.
Some workers used their mobile phones to take photos of measurements from the gauge and sent a report to LILAMA to request a health check.

Last year, a suspected radiation leak at an oil rig off southern city of Vung Tau City on December 28 sent 173 workers to hospital.
The 28 most serious cases, involving severe headaches, vomiting and breathing difficulties, were sent to the Da Lat Nuclear Research Institute for testing. Tests found no indication of radiation poisoning.

Viet Nam is upgrading the security of its radiation sources. The country currently houses 188 industrial and healthcare establishments and a total 1,961 radiation sources. Viet Nam plans to build its first nuclear power plant between 2015 and 2020.