Vietnamese Student Association and the Ho Chi Minh Communist Youth Union in Quang Ngai Province on May 4 began the construction of the 25m high National Flag Tower on Thoi Loi Mountain in Ly Son Island which is located off the South Central Coast of Vietnam.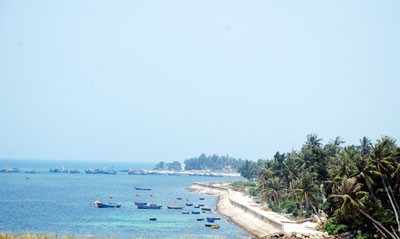 Panoramic view of Ly Son Island in the central province of Quang Ngai (Photo: SGGP)
The construction of the National Flag Tower is part of an ongoing program themed 'Students and Vietnam's Sea and Islands', currently underway on Ly Son Island.
Construction of the Flag Tower is expected to complete by end of this year.
Nguyen Minh Triet, director of the Vietnamese Student Assistance and Development Center, said the Flag Tower represents the sentiments of Vietnamese students for their nation's sea and islands, and also affirms the country's sovereignty over the islands on the East Sea.
Earlier, organizers of the program 'Students and Vietnam's Sea and Islands', gave away 154 scholarships, worth VND500,000 each, and 5,000 books to students on Ly Son Island.