The construction of the Dung Quat oil refinery, the first of its kind in Viet Nam, will welcome more engineers and workers this year, with the total number at a time climbing up to 15,000, 2.5 times higher compared with last year.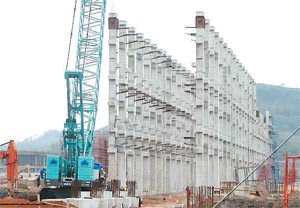 Dung Quat oil refinery under construction (Photo: SGGP)
The reason is more works will be carried out for the project in the central province of Quang Ngai. Provincial authorities have prepared accommodation services, entertainment, shopping and travel services for the engineers and workers.
Different pieces of equipment and lots of materials have been transported to the construction site.
The construction is planned for completion in 2009. The oil refinery is designed with an annual capacity of 6.5 million tons. Its major source of input materials will be crude oil from the Bach Ho (White Tiger) oil field.
This year's targets include finishing all design jobs, 98% of all equipment purchases and 70% of the construction.
In related news, the Korean group Doosan will break ground for its US$260 million factory in the Dung Quat Economic Zone to manufacture equipment used in heavy industries like power, chemicals, and goods loading and unloading.
At present in the Chu Lai Open Economic Zone in adjoining Quang Nam Province, four foreign-invested projects are under construction. They are a float glass factory capitalized at US$81.8 million, a US$32 million  five-star resort, a ceramic tile factory with US$23.8 million in investment, and a US$13 million factory that will manufacture electronic parts.
Also in Chu Lai, the Mapei Vietnam Company has just inaugurated its chemical factory.