Mr. Truong Tan Sang, politburo member and permanent member of the Party Central Committee Secretariat, was elected new State President by the National Assembly with 97.4% of the votes ( 487 deputies) on July, 25th afternoon.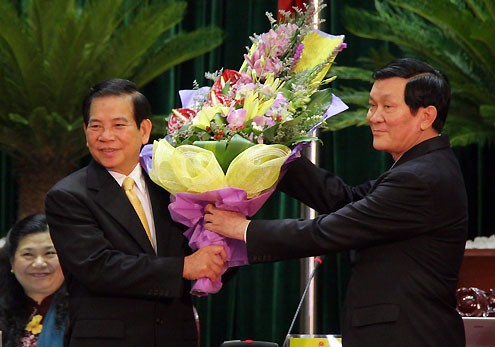 Ex- President Nguyen Minh Triet (L) presents flower and congratulates newly-elected State President Truong Tan Sang (R) .
He was introduced by new National Assembly (NA) Chairman Nguyen Sinh Hung.
Before working as the Permanent Secretariat, he used to be the head of the Central Economic Committee and the general secretary of the Ho Chi Minh City Communist Party.
Mr Sang (alias Tu Sang) was born on January 21, 1949 in Long An province and holding a university degree in law, and used to be the head of the Central Economic Committee and the secretary of the Ho Chi Minh City Communist Party Committee.
He has been the members of four consecutive National Assemblies of 8th, 9th, 10th, and 11th.
Mr. Sang will replace Mr. Nguyen Minh Triet.
The newly-elected State President will take office on the afternoon of July 25.
Delivering the speech after elected, new President Truong Tan Sang promised to whole-heartedly contribute to the new position, fulfilling the new task assigned to him by the Party and the people, for the interest of the people and the country.
After being elected, Mr. Sang nominated to the National Assembly Mr. Nguyen Tan Dung, the incumbent Prime Minister, for another term and Mr Dung was to be approved by the National Assembly soon.
Born on November 17, 1949 in Ca Mau Province, Mr. Dung is Politburo member and used to be Deputy Minister for Home Affairs and Governor of the State Bank of Viet Nam.
The new State President also nominated Ms. Nguyen Thi Doan, the incumbent Vice State President, for another tenure.
Mr. Sang also nominated Mr. Truong Hoa Binh, chief judge of the Supreme People's Court, for another term.
Mr. Nguyen Hoa Binh, a legislator from Quang Ngai province, was nominated to the post of the Chairman of the Supreme Prosecutor's Office.
Born on May, 24, 1958 in Quang Ngai, Mr. Binh is secretary of Quang Ngai Party Committee and used to be deputy head of the General Police Department under the Ministry of Public Security.