The National Assembly listened to a government report on the implementation of the Anti-Corruption Law Tuesday. Most legislators unquestionably agreed that there should be zero-tolerance for corruption.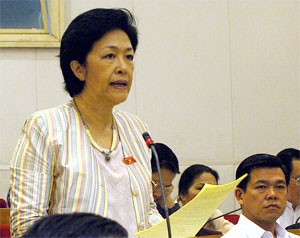 Deputy Ton Nu Thi Ninh speaks before the National Assembly on Oct 31

NA deputies recognized the same old story: facts and figures about corruption in localities that have yet to be brought to light. Only 28 localities and 9 ministries and agencies had submitted their reports on corruption.

Moreover, the public is raising awareness about corruption cases in some sectors, yet not a single case has been settled.

Deputy Ngo Sy Huong of Thai Nguyen province said: "It is obvious that many officials are still indifferent to the situation".

Although corruption is rampant, even within the anti-corruption body, the government's report remains vague, said Nguyen Duc Dung of Kon Tum province.

The Head of the Government Inspectorate, Tran Van Truyen, admitted before the NA that punishment is still too light, and he used the recent trial of the Do Son land scandal at the Hai Phong People's Court as an example. Only administrative punishment was received; there were no more serious criminal repercussions.

This case should not be seen as an exception, said Vinh Long province's Tran Van Diet, as "tolerance will breed corruption."

Most lawmakers voiced concerns with the government's determination to fight corruption. They questioned whether state leaders really wish to win the war against corruption rather than pay it the often issued lip service.

Deputy Do Trong Ngoan asserted that "in fact, the corrupt and unscrupulous forces may be dominating" in this uphill battle.

From another viewpoint, deputy Ton Nu Thi Ninh of Ba Ria-Vung Tau province tried to estimate the total cost of corruption that makes up 7.8 percent of this year's infrastructural investment capital.

Even with establishing an approximation of the corruption money withheld, the recovered money has only reached VND12.7 billion; accounting for basically 3 percent.

An Giang province's Nguyen Ngoc Tran also blamed some NA deputies for not thoroughly questioning local leaders about corruption and pursuing the interrogations to their necessary ends.

NA Chairman Nguyen Phu Trong urged the NA to quickly complete its instructional documents for the Anti-Corruption Law.

Recent high-profile corruption cases must be put on trial as soon as possible to be resolved and removed from the public eye, he added.