Cobia cage culture has been developing robustly in Hon Chuoi Island in Song Doc Town in Ca Mau Province's Tran Van Thoi District in recent years and has helped farmers to change their lives.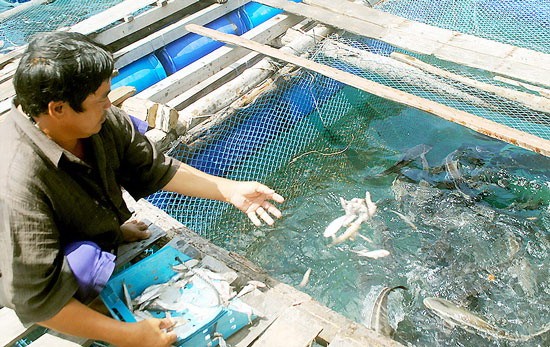 A cobia fish farm in Hon Chuoi Island. (Photo: SGGP)

Mr. Kim Ngoc Tinh, one of the first cobia raisers in the island, shared that he used to be a fish trader. Earlier, he collected fish in the island then carried them to the mainland to sell to smaller traders. After seeing many islanders in Kien Giang Province make an easy living from cobia culture, he decided to choose Hon Chuoi Island to raise his own cobias. At first, he started cobia cage culture with 250 cobias. As cobia cage culture gave him profit right in the first crop, he expanded farming scale and has lately earned a profit of nearly VND1 billion.
 
Cobia cage culture has developed within the last five years and brought high efficiency. Therefore, many fishermen in the island have quit fishing to shift to cobia cage culture.
 
Le Van Ut, an islander, said that he had joined offshore fishing boat since he was 15 so he was familiar with the western water. However, income from fishing is unsteady so he switched to cobia culture. According to him, cobias are extremely gluttonous that they need to be fed twice a day. Every year, farmers have to move their cages around the island for three times in order to avoid storms.
 
According to islanders' calculation, a cage for 250 cobias costs about VND180 million and other expenses for culturing is around VND170 million. Juvenile cobias with average weight of 1 kilogram each are bought from offshore fishing boats. They are raised for about 9 months until their weight reaches 8-9 kilograms each then they will be sold to traders. The current price of cobias is at about VND150,000 per kilogram, higher than that in the previous year, so farmers are excited.
 
Le Hoang Phuong, chairman of Hon Chuoi Cobia Cooperative, said that Hon Chuoi Island is favorable for cobia cage culture because its population is small and there is neither factory nor plant in the island so its water source is not polluted. In addition, disease rarely occurs. As a result, from a few households who tested cobia culture in 2010, up to now, there are 30 households raising cobias in 113 floating fish farm. In 2014, cobia raisers earned a revenue of VND17 billion, this year, they are expected to gain VND20 billion.
 
According to Mr. Phuong, Hon Chuoi islanders are unable to borrow money from banks as they do not have ownership certificates for their houses and do not own any fixed assets. If the cooperative borrows money on their behalf, the highest loan is merely VND200 million which is not enough for cobia raisers' capital need. Thus, cobia raisers hope that the Government will have specific policy to help them borrow money to develop cobia culture.
 
Hon Chuoi Island locates in the southwestern water and is about 17 nautical miles from Song Doc Seaport. The island has an area of 7 square kilometers and a population of 162 people of 50 households. Ca Mau Province is preparing to send more residents to Hon Chuoi Island.