A project to survey coal for excavation in the Red River Delta is expected to be proposed to the government in coming months, yet experts have concerned about its geological and environment impacts.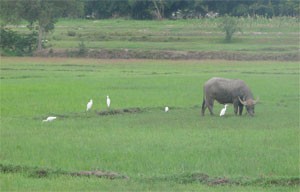 Rice fields in the Red River Delta are threatened by a new coal mine project (Photo: Phan Hien)
The excavation project of 210 billion tons proposed by the national mining group Vinacomin has raised concerns over a lot of problems, including land sinkage, food security and water contamination.
Nguyen Dinh Hoe, a professor from Vietnam Association of Nature and Environment Protection, said that the coal mine under the Red River Delta is located within an active fault area, and the delta belongs to a 7-Richter earthquake zone.
Hoe said there's very high chance of land sinking if the coal mine is touched.
Nguyen Thanh Son, director of the project management board, also admitted that the Red River Delta is geologically complicated.
The land is soft, which makes it easy for digging but hard to keep the coal mines stay firm, Son said.
He required the investor Vinacomin to experiment different excavation methods and use the one that does not affect the water resource, the land, the agriculture and the residents.
Nguyen Chan, a former coal and mining official, suggested using the coal gasification method, which is being used in Canada and Ukraine.
Officials from Vinacomin said that the project aims to boost economic development based on export of natural resources.
The corporation said that Vietnam might need to import around six million tons of coal in 2015 and 60-70 million tons in 2020.
Thus it is an urgent mission to expand the coal resources in the country, it said.
It said that work on the Red River Delta project has been slower than the company planned.
Cash, time challenges
The Natural Resources Law that took effect starting July 1 said that the investor has to own 30 percent of the investment if they want to open a deep coal mine.
Vu Manh Hung, deputy general director of Vinacomin, said the new rule makes it hard to Vinacomin to proceed the project.
Hung estimated that the corporation would have to have VND5 trillion (US$243.18 million) at hand to be allowed to start the project.
He also said that it would take a lot of time to examine the area and try different excavation methods.
First, the corporation has to wait for the Ministry of Natural Resources and Environment to report on the total amount of coal possible in the area, then make a survey on assessment of the quantity, and then experiment technologies.
The management director Son said Vinacomin and Thai Binh Province authorities have asked the government to survey a small area and try some technologies there first.
Vinacomin said it would start the project in Hung Yen and Thai Binh Provinces, expecting an amount of nearly 40 tons of coal. The corporation would set up 14 mines for this first step.