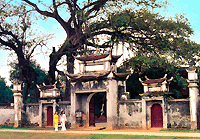 Co Loa historical relic
Ha Noi People's Committee promises to speed up the Preservation Project of Co Loa historical relic and impose severe punishments for violation to the nearly 500-hectare relic.
The nine-year project, starting in 1997, is criticized for its stagnation in comparison with the outlined progress and for many violations causing so much harm to the relic.
The Committee thus asks related agencies to push up the restoration works like further researching on preservation, protecting and improving valuable features of the Co Loa historical relic.
Reportedly, two outdoor and indoor museums will be built in a bid to display and keep ancient artifacts intact.
The site clearance process, including the move of a high school and Co Loa Commune People's Committee, should be speeded up so that the restoration project of the Co Loa historical relic, Vietnam's most ancient castle built by An Duong King in the third century B.C., could be finished soon.
Related Articles