The Industrial Development Assistance Center in the Mekong Delta Province of Tra Vinh has established a specialties club which will introduce to visitors the varied and many exotic food dishes of the region.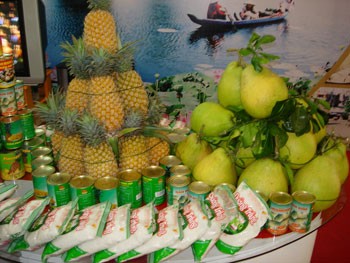 Mekong Delta fruits, pineapple and grapefruit. (Photo:KK)
The club will introduce Mekong Delta specialties like Xuan Thanh wine, nuoc mam ruoi (clam worm sauce), Tra Cuon banh tet (Sticky Rice Cake), Nam Thuy cha lua (pork roll), Thuy Tien bot mut ban (a sour fruit jam), Tien Hai dried fish and shrimp, Chit Sa salted beet and Kim Dan coffee.
The Tra Vinh specialties club aims to raise public awareness in protecting and preserving traditional specialties of the region by promoting them in domestic and foreign markets, as well as helping promote tourism in the Mekong Delta Region.
Tra Vinh Province is 200 kilometers from Ho Chi Minh City and situated in the southern plains of the Mekong Delta, surrounded by the Tien and Hau rivers. It has vast potential for development of waterway traffic.
The government has plans here to build the Quan Chanh Bo canal which flows into the East Sea and an international port in Dinh An.
Tra Vinh population includes members of the Khmer ethnic community and boosts of many ancient pagodas throughout the province.