Climate change will be a serious threat to Ramsar sites in the Mekong Delta including Tram Chim, U Minh Thuong, Lang Sen, Tra Su, Vo Doi, Bai Boi, Dat Mui, said Professor Le Quang Tri, head of the Climate Change Institute in Can Tho city yesterday.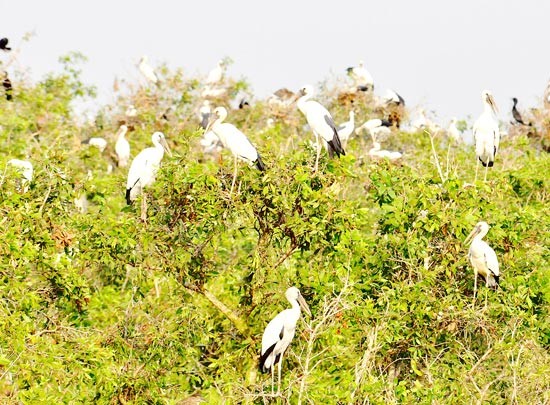 Asian openbill storks at Lang Sen Ramsar site
At a conference on green agriculture by Can Tho University, Mr. Tri said that climate change has so far narrowed areas of rice and seafood farming, vegetable and fruit in the delta.
Scientists at the event expressed concern about severer consequences from the phenomenon.
At present, salt water penetrates about 300,000 hectares of the delta's land area which will be double to account for 20 percent of its plain area in case of serious drought. Rice farming will be badly affected.
Therefore scientists at the event stressed the importance of adaptive measures to minimize damage for the community.
They proposed to develop crop plant varieties and livestock breeds of harsher weather stamina and preserve genes of climate change adaptation.