The Civil Aviation Administration of Vietnam and the Can Tho police jointly held an anti-terrorist drill at Can Tho International Airport on November 11.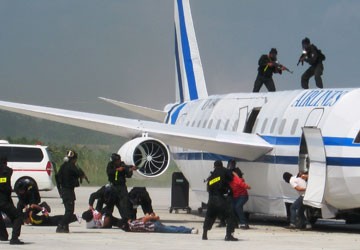 Security forces control terrorists at Can Tho International Airport (Photo: Phap Luat)
Deputy Minister Hoang Trung Hai monitored the drill which was practiced in order to fend off any potential terrorist attack, rescue   hostages and defuse bombs.
The terrorists were enacted by 10 people who held the passengers of a plane hostage and demanded US$1 million as ransom and one get away plane.
The security forces were tasked to patrol and suppress the rebels while keeping surveillance of the area. They were also drilled to escort witnesses and prisoners to court.
The entire drill procedure was declared a success.