Many industrial and export processing zones recently announced that they are lacking workers. Investigating why there was such a situation, Sai Gon Giai Phong reporters decided to apply for advertised jobs, but found that it is not very easy.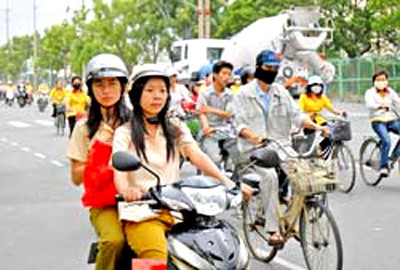 Workers at Tan Thuan export processing zone after work (Photo: SGGP)
It was 6 am and a reporter had turned up for an interview at a garment company in Linh Trung Export Processing Zone.
Earlier, she had called the company's personnel department to make sure that the company was recruiting workers and asked about its application procedures.
Having arranged a job interview, she went to the company and met a watchman who asked her for notarized papers. Although, she tried to explain that the staff in the personnel department said that it was not necessary, and she was willing to present the originals, the watchman did not let her inside.
A day later, she took the notarized file to the company and met a watchwoman who said that the personnel manager was not at the company and told her to come back the day after.
For her efforts, she was finally interviewed. When she asked about the company's regulations and labor law, the manager said that she should be industrious and should not care about the law.
A worker in a company in Tan Thuan Export Processing Zone said that workers here had to wait for three days to a week to be interviewed, although the company lacked staff.
Newcomers
Another reporter applied for a job at another garment company, also in Linh Trung, and said that in the first day of her work at the quality control department, she and some other newcomers did not even have a chair to seat. They had to stand all day.
Some workers, who were so tired, leaned on shelves, but were immediately scolded by the manager.
Another reporter said that the first day she worked at an electronics company; she had not been assigned any work, so received a tray of electronic components, which were smaller than her little finger, and to turn them upside down.