The city must sell 5,000 houses by 2010, according to directive 61/CP. In the near future, the procedure for selling the houses will be explained to the public to prevent confusion, the representative of the house selling board said in the meeting with the leaders of various districts.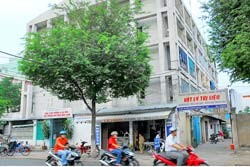 A flat on sale in district 3
As of July 1, the city owns 14,600 houses, according to the board. About 5,000 of these will be offered for sale. This means that the number scheduled to be sold is small. These houses are located in many districts. Beginning in the third quarter, the property managers must tell the renters how they can buy their houses. If the renters can afford to buy their own homes, they will follow the steps of the procedure. If they can't, renters must sign written consents saying so.
The manager must inform the renters of  any problem that could make the house difficult to sell and explain how to solve them so that renters can complete the process of buying the houses.
As for houses which are not being offered for sale, the renters must be informed of the situation. They will continue to rent, but at new prices, and will receive compensation if the government seizes their houses.
As for houses in good locations, the procedure for selling them is based on the directives 61/CP and five of the city's People's Committee.
As for villas, the city hasn't decided whether to sell them or use them for schools, hospitals, parks, or other public purpose.
The property managers will set the price of all the houses based on a survey of the price of housing in the city. These prices will then be in effect until 2010.
The falling price of housing and inflation has slowed the selling of houses.