HCMC authorities plan to relocate people living in 20,000 houses in slums along canals and rivers by 2020.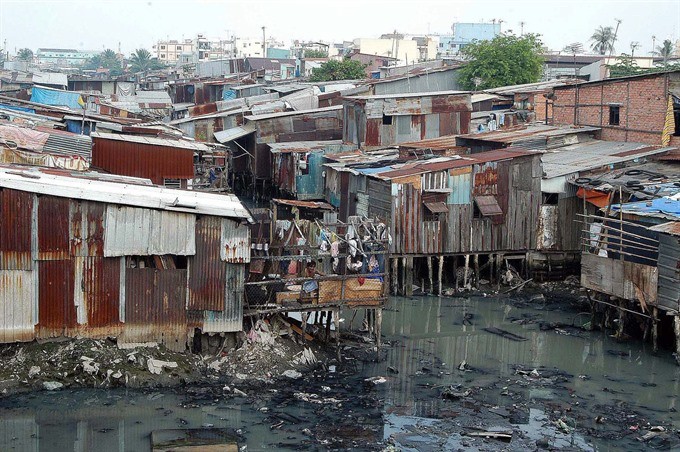 Slum in HCM City's District 8. District 8 accounts for nearly 50 per cent of the slums with more than 1,000 houses lacking toilets and being located in severely polluted places, according to a district official.
The slums are mainly located in districts 4, 7, 8 and Bình Thạnh and have more than 100,000 people living in unsafe and filthy conditions.
The houses, built with temporary materials, are seriously degraded and often lack toilets. Most of their residents lack steady jobs.
"District 8 accounts for nearly 50 per cent of the slums with more than 1,000 houses lacking toilets and being situated in severely polluted places," Lê Quỳnh Đài, deputy chairman of the district People's Committee, told Thanh Niên (Young People) newspaper.
The district surveyed the slum inhabitants, asking them where they wanted to live and if they preferred money instead of another dwelling place.
Most would like to remain in the area, making it a knotty problem for the authorities since the compensation they are eligible for is low and inadequate to pay for housing in the vicinity.
The city has a master plan for District 8 that envisages building apartments in blocks of 20 – 25 floors for 20,000 people on 75 hectares along the Đôi Canal. Around half the land will be earmarked for green spaces and public and resettlement use.
"Slums have existed along the canals for more than half a century of HCM City's urbanisation history," Lê Văn Khoa, deputy chairman of the city People's Council, said.
The city would invite investors to build housing for the relocated slum residents, he said
Several investors are keen to invest in the resettlement project, with one willing to sink VNĐ12 trillion (US$540 million), he said.
"But more money is needed for the huge project."
To make the plan possible, the city would consider other options like using more ODA, inviting foreign investors and reviewing all publics land available, he said.
"We want to make sure every household is resettled and no one is without a home."
The city has embarked on 39 social housing projects and by 2020 will have 30,000 apartments for resettlement while the need is for 47,000.
Those who have money to buy social housing will get priority. People can also pay in instalments after paying 20 per cent down. Those who cannot afford to buy can lease social housing.
Architecture Ngô Viết Nam Sơn said "To eliminate the slums along canals, we should use the public-private partnership model and use public lands along the canals to compensate investors like Đà Nẵng has done."
He pointed out that after the slums are removed land prices would shoot up, and the Government could sell to investors or offer lands in lieu of money.
Khoa said that investors would be offered several inducements like increased construction density near metro stations, land with waterway ports, not adding parking space while calculating construction density to avoid basements and flooding, and more.